For a lot of people around the world, the time they spend in nature tends to have a repairing effect on their souls, as they get time to be mindful and reflect. It makes them happier, calmer, and kinder, and very easy to forget about the real world as they get in touch with the universe.
That's why a lot of people these days want to choose perfect America vacation spots that bring them closer to nature, a complete contrast to our modern, busy lives.
It not only allows you to connect with nature but it's also a great way to reconnect with your loved ones. Destinations like Black Canyon of Gunnison and Stone Mountain attractions, are just a flight or road trip away to experience these beautiful sites right in front of you.
Moab Utah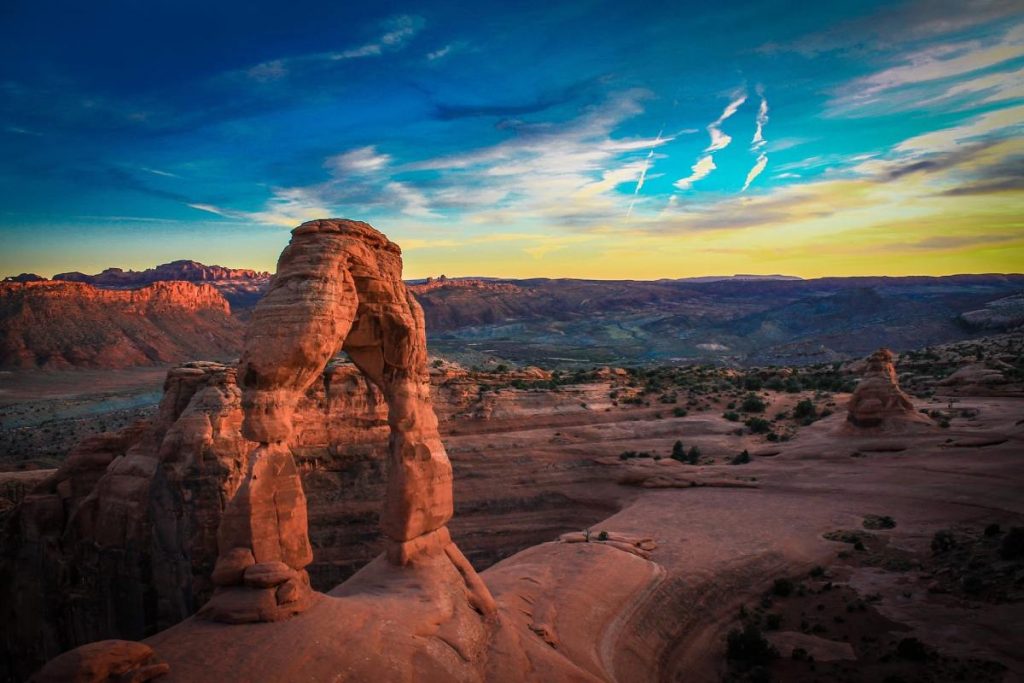 Moab is a sandy haven, close to nature, and America vacation spots for outdoor adventures, just a few hours from Salt Lake City. It's located near Arches National Park, along with a popular playground ideal for rock climbers and hikers.
You can make your trip more special by renting a jeep and enjoying a rugged ride exploring the paths seldom taken. You can end the long day out in the sun at the Moab Brewery and enjoy home-brewed root beer.
Lake Mead, Nevada
Plan perfect outdoor America vacation spots, bring out your RV or rent a tent and enjoy activities like boating, fishing, and hiking surrounding the lake area.
The Lake Mead National Recreational Area is located just a few miles outside of Boulder City, Nevada, set beside the well-known Hoover Dam. While you are out in nature and in the neighborhood of the lake, try to take some time to explore the Black Canyon as well, for a more memorable trip.
Santa Rosa County, Florida
Santa Rosa is known to be a treat and a must-visited spot for all nature lovers because of the amazing variety of scenery it offers travelers.
You can enjoy lazy days, lounging on the beautiful white beaches along the Gulf of Mexico or if you are the adventurous type then you can also go for inland options like canoeing and kayaking along the Blackwater River and make the most of your time at one of the world's purest sand-bottom rivers.
Yellow Stone National Park, Wyoming
One of the most memorable America Vacation spots for all nature lovers, which makes this spot very popular and often very busy.
You might have to book your campsite in the park, months in advance, and you will have to share this amazing experience with many other nature enthusiasts who are there to enjoy this great outdoors.
The park is particularly busy during the summer months, however, all the planning and arrangements are definitely worth it when you are taking in the beautiful surroundings.
Savannah, Georgia
If you are looking for America Vacation Spots that take you closer to nature and are a pocket-friendly spot for a family trip, then Skidaway Island State Park is not to be missed.
You can spend your days taking in the beautiful beach, walking on the live oaks, and spend your nights gathered around the campfire, with your family or partner for some quality time.
If you like, you can also spend a day at Tybee Island for swimming or head over to Savannah and make the most of being closer to a proper city.
Gatlinburg, Tennessee
The Tennessee town is known as one of the most beautiful and popular places to get married, for the same reasons the town has also been named as one of the prettiest towns in the US.
Are you still looking for more reasons to visit Tennessee? Gatlinburg gives you three entry points to the Great Smoky Mountains, which is one of the most popular national parks within the country, making this America Vacation Spots a must-visit spot for everyone.
Dillon, Colorado
If you are looking for a low-key vacation destination that's not too crowded but still beautiful with many natural attraction points, then you must discover the small town located on the shores of the Lake Dillon Reservoir.
It offers you a lot of attractions to make your trip really enjoyable for the whole family like hiking through White River National Forest, strapping on your life vest to experience white water rafting within the mountains, and catching a peek at the wildflowers.
When visiting Dillon, make sure to take your camera with you to capture photogenic sights and photographic memories.
Somerset, Wisconsin
Somerset is another great option for budget-friendly family America Vacation spots. It is a beautiful place to plan your simple and quick getaways. For the best experience, get a tent and rent out a tube for going drafting down the Apple River.
However, when making your arrangements, make sure you book a campground that facilities families and kids if you are traveling with children. You don't want to go with a campground that advertises discounts for singles, or bachelor and bachelorette parties.
Malibu, California
When thinking about roughing it out in nature, Malibu might not be the first place that you think of, but it is one of the most beautiful places in the country and America Vacation spots.
You may enjoy camping at Malibu Creek State Park or rough it a bit with Malibu Beach RV Park. Both of these are great vacation options, they provide easy access to scenic canyons. Malibu is also ideal for people who enjoy hiking and the beautiful wide beaches of Southern California.
Catskills, New York
Catskills region includes four counties from the upstate or east-central New York. This again is a great vacation or short getaway spot for families and couples.
Here you will find many attractions surrounding rivers, rolling mountains, and this might be the only state park in the New York region with dedicated space for horseback riding.
Besides, the Catskills offers a wide variety of outdoor activities that make your trip truly memorable, like a relaxing round of golf.
Also read:
Mysterious Stories From America National Parks
Highlights And Challenges For Americans Living In The UK