Nepal is full of natural wonders. It has the highest mountain in Mount Everest, the deepest Gorge in the world, Kali Gandaki. Nepal is a natural paradise. Nepal tops many traveler's bucket lists with its snowy mountain tops reaching in the sky, world-renowned UNESCO world heritage listed cultural and historic places, and picturesque trekking trails, along with the infectious smile of the welcoming Nepalese people.
Possessing 8 out of the 10 highest mountains in the world, Nepal has proved its worth to mountain experts, adventure lovers, and mountaineers. If you plan to trek in Nepal, choose the trek that leads you to something beyond imagination because heaven is a myth, but Nepal is real.
Before going to any track, you have to follow my trekking guide to Nepal, which helps you while trekking in Nepal.
To do so, here are the Top 5 best Treks in Nepal for 2021, which equally presents the stunning views of mighty mountains peaks and panoramic views of the Himalayan range, lush green forests, along with beautiful secluded landscapes, and a nature jackpot! Let's get started!
List of Top Treks in Nepal
Khopra Dada (Ridge) Khayar Lake Trek
Annapurna Base Camp Trek.
Kanchenjunga Trek
Everest Base Camp Trek
Duration: 15 days
Permits: Sagarmatha National Park permit and Local Government fee
Accommodation: teahouses
Trip Difficulty: Moderate
Max Elevation: 5,545 meters
Best Time to trek: March to May and September to December
Everest Base Camp Trek is considered the best Trek in Nepal, which ultimately takes you to the foothill of giant Mount Everest traversing through Sagarmatha National Park.
Also this place come into Nepal's best places to visit for tourists.
Graded as a moderate trek, Everest Base Camp Trek would take 15 days. So basically, it is up to you how do you like to visit Everest Base Camp. Itineraries can be varying from 12 days to 20 days.
You can also choose Everest Base Camp Trek and Fly Back Heli that allows trekkers to experience a birds-eye view of the Khumbu Region and soaring high over the Himalayas, and getting the chance to catch the Tahr and Musk Deer, and yaks graze on the mountain slopes.
With colorful alley, chaotic marketplace, fluttering prayer flags surrounded by panoramic Himalayan ranges of Namche Bazaar are another attraction of Everest Base Camp Trek. It makes perfect destinations for visitors to acclimatize.
This trek not only serves you the beguiling view of Mount Everest but also introduces rich Sherpa culture and traditions, walking through the iconic swaying bridge draped with numerous fluttering prayer flags.
This trek is brimming with natural beauties. But, this is not just a trek; this is a lifetime experience that you can share with your dear and loved ones.
You have to fly from Lukla to Kathmandu to reach Everest Base Camp. You will experience the adrenaline rush running through your veins when landing upon one of the tiny airports often referred to as the most dangerous airports in the world.
Khopra Dada (Ridge) Khayar Lake Trek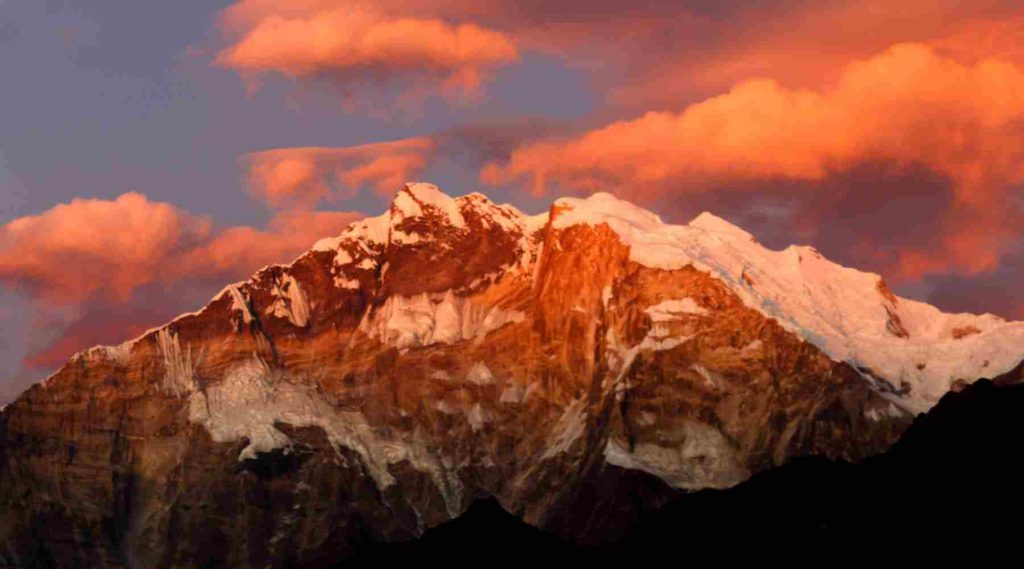 Duration: 13 days
Permits: ACAP permits and TIMS card
Accommodation: teahouses lodge
Trip Difficulty: Moderate
Max Elevation: 4,620 meters
Best Time to trek: March-May and September-December
Earning its reputation as the best short trek, the Khopra dada (Ridge) Khayar Lake Trek is a rewarding trek in Nepal.
A star attraction of this trek is traversing through Khayar Lake with crystal clear blue water, adorned with marvelous views of surrounded Fang mountain Mountains and other peaks. Besides that, the trail leads you through a must-visit city Pokhara, and a well-known popular Ghandruk village that serves a vast stretch of nature that includes staggering Annapurna south, Hiunchuli, and Machhapuchre mountain peaks.
In addition, a rich history and strong Gurung cultures, along with the Himalayan lifestyle, can be observed during the trek.
With small rivers, diverse flora and fauna, unhindered views of yak and Himalayan Thars grazing, traveling the Khopra Ridge Trek through a meadow, ridges, river, and woods makes for a wonderful trekking journey.
The secluded Khopra Dada (Ridge) Khayar Lake Trek journey begins with a scenic drive to Pokhara from Kathmandu.
Annapurna Base Camp Trek
Duration: 19 days
Permits: ACAP permits and TIMS card
Accommodation: teahouses lodge
Trip Difficulty: Moderate
Max Elevation: 5,416 m
Best Time to trek: March-May and October-November
Annapurna Base Camp Trek is the second most popular trek in Nepal after Mount Everest Base Camp trek. This trek presents a wonderful experience through diverse scenery and deep valleys of Annapurna regions that provide rich cultural interaction and picturesque trails, accompanied by Mount Annapurna, Dhaulagiri, and Machapuchare (fishtail).
The trek contains numerous temples, monasteries, or Gompas, which reflect the rich cultural-religious heritage of the Annapurna Regions. Also recognized as Annapurna Sanctuary Trek is decorated by the lush forest of Rhododendron, pine, and the bamboo tree will surely capture one's heart.
Besides that, stunning views from Poon Hill, a lookout point near the town of Ghorepani, will also work for one of the major highlights of Annapurna Base Camp Trek via Poon Hill.
Annapurna Base Camp Trek, also known as Annapurna Sanctuary Trek, starts traveling from Kathmandu to Pokhara, which can be reached by a scenic flight or drive on the highway. Moreover, Pokhara is a beautiful lakeside city, a famous touristic hub, and a gateway to the Annapurna Base Camp Trek.
Annapurna Circuit Trek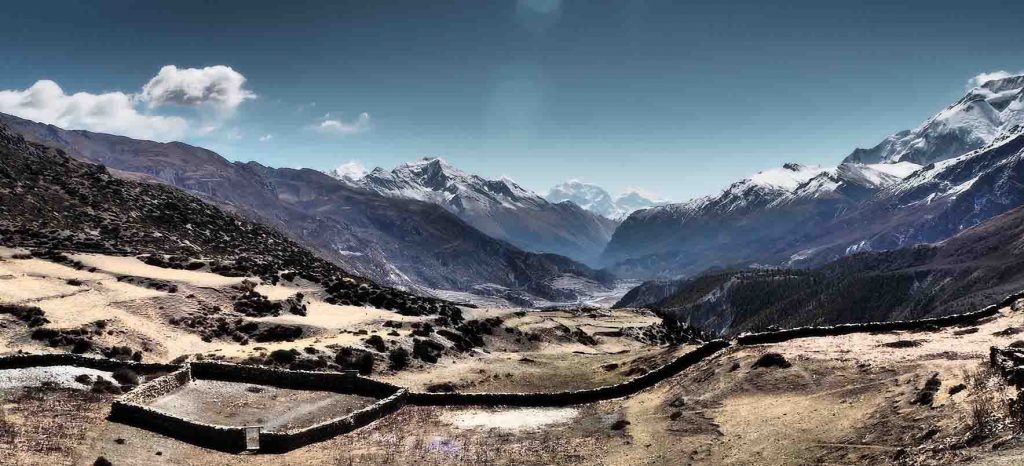 Duration: 19 days
Permits: ACAP permits and TIMS card
Accommodation: teahouses lodge
Trip Difficulty: Moderate
Max Elevation: 5,416 meters
Best Time to trek: March-May and October-November
Included Most in-demand trek, Annapurna Circuit Trek is an amazing best trek that forms a circular for the travelers to explore Annapurna massif from 360-degree directions.
With towering peaks of Annapurna wide view, Annapurna Circuit Trek includes Manag Valley, Thorang La Pass, Kali Gandaki Gorge, Tatopani (Natural Hot spring), and Ghandruk village.
All this unique place has so much to offer one can't handle in the Annapurna region. Mang valley offers its trekkers the beautiful view of Chulu Range, Gangapurna, Tilicho Peak, Kangaru Peak, and Throng Peak with deserts like wild terrain.
The highest pass in the world, Throng La Pass, can be found along the Annapurna Circuit Trek and Thorang La Pass (5,416m) route marked by a few piles of stones and fluttering prayer flags. During the trek, you will be delighted with the breathtaking view of Machhapuchre, Manaslu, Dhaulagiri, Annapurna, and Tukuche Peak.
Graded as a moderate trek, Annapurna Circuit Trek starts with heading towards the beautiful Lakeside city Pokhara from Kathmandu.
Kanchenjunga Trek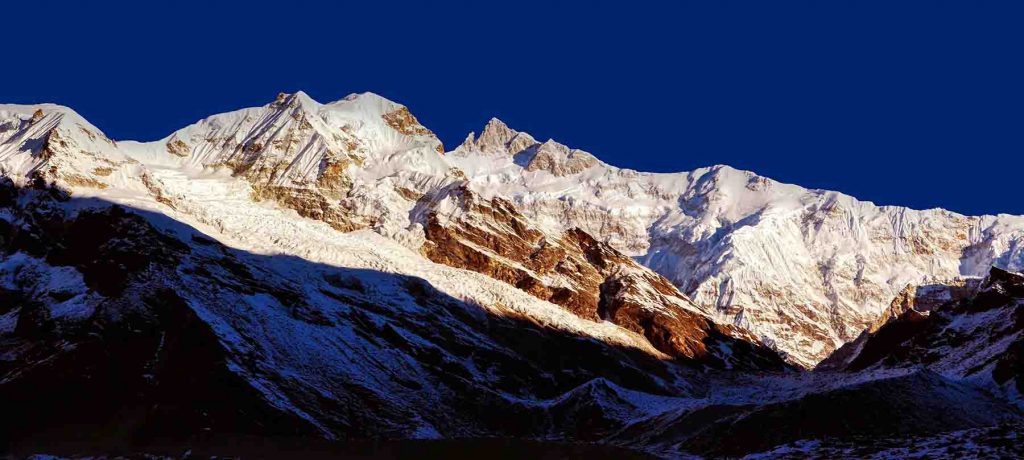 Duration: 26 days
Permits: A Kanchenjunga Conservation Area Project Entry Permit (KCAP) and Kanchenjunga Restricted Area Permit (RAP).
Accommodation: teahouses lodge
Trip Difficulty: Moderate
Best Time to trek: March-May
Max Elevation: 8,585 meters
Located in the remote northeast of Nepal, Kanchenjunga is the home of the third highest mountain in the world which offers a phenomenal view of Mt. Everest (8,848.86 m), Mt. Lhotse (8,516 m), Mt. Makalu (8,201 m), and Mt. Kanchenjunga.
The transboundary landscape of Kanchenjunga takes you deep into the secluded area that offers its trekkers unique insight into the rural Nepalese lifestyle, adorned with the terraced landscape. But the real joy here is walking its challenging and exhilarating trekking trails filled with Rhododendron forest and the beauty of Kanchenjunga Mountain Range.
One of the best off-the-beaten-path treks, the Kanchenjunga trek is the best trek that starts with a flight from Kathmandu to Bhadrapur then travels by road to Taplejung. It is roughly 9-10 hours of drive.
Even though the 26 Days Kanchenjunga trek is a long demanding trek, a good fitness level is all it takes, which lets you enjoy solitude and the tale of "Yeti" that are believed to be found in the Kanchenjunga Region.
Conclusion
You could find a plethora of equally awe-inspiring and jaw-dropping trekking destinations in Nepal. But, unfortunately, it appears that to cover all the treks and picturesque trekking trails in Nepal, you have to keep traveling all your life which is not an easy task.
However, you can always experience the beauty of this mountainous country on your own and at your own pace of time.
If you are an international traveler who has gotten vaccinated and ready to travel, Nepal has already decided to remove mandatory quarantine for tourists and travelers.
Your dream to reach the top of the highest mountain in the world, Mount Everest, and to touch the spiritual land of Siddhartha Gautam Buddha's birthplace seems to carry off with the hassle-free access to enter Nepal.