Newlyweds to go on their honeymoon in Dubai. The reason is that there is so much to see and do in this big city. A city where romantic gestures don't stop at beachfront hotels and marble-covered spas but continue with custom services.
For instance, yacht rental Dubai services, dinner under the stars in the desert or up in the clouds, that only a city like Dubai could offer.
Top 6 Things for Your Romantic Honeymoon Plan
The desert, the beach, and a plethora of shopping and other attractions await you on your honeymoon in the UAE's largest city. Eventually, couples can get the best of both worlds by splitting their vacation time between a beach resort and chic urban lodging.
In addition, availing of yacht rental Dubai services from a well-known company will also enhance your honeymoon moments. Here is a complete plan for your honeymoon in Dubai.
1. Stay at Anantara The Palm Dubai Resort
Firstly, this Thai-style hotel resort is on the well-known Palm Jumeirah. It has the only over-the-water villas and luxurious rooms with access to a lagoon in the UAE.
Couples, spa treatments and dinners on the beach at sunset are great ways to relax, unwind, and spend time with your partner.
2. Go on a Dhow Cruise Dinner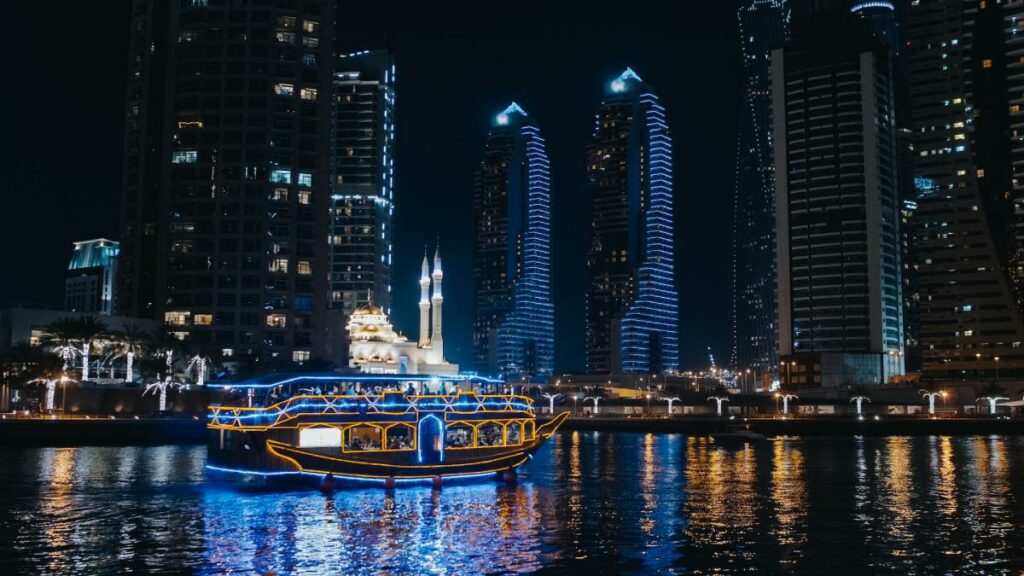 Go on a Boat Ride which is a romantic dinner cruise. Dhows, traditional sailing boats, move through the new Dubai Water Canal and the modern Dubai Marina.
You could also go on the Bateaux Dubai, a glass-walled boat that sails across Dubai Creek and serves dinner. During the day, you can take an Abra.
It is another type of traditional boat for a ride along Dubai Creek. So, these are different types of dhow cruise Dubai Marina that you must hire for your Honeymoon in Dubai in 2023.
3. Go to Desert Safari Fun Nights
During your honeymoon in Dubai, you can get away from the city for a fun desert adventure and do exciting things. As the sun sets behind the dunes, you can enjoy a 4×4 ride over the dunes.
You can also have a great BBQ. On a safari, you can learn about the beautiful desert life. Also, try sandboarding (surfing across the dunes) and take pictures of the beautiful scenery.
You'll get to see the beautiful and hypnotic desert sunset. Eventually, enjoy the unique live show while sitting comfortably on old Arabic carpets at night.
In the middle of the evening's Fun, Tanoura dancers will perform on stage, and you can eat a tasty BBQ meal. Thus, make the most romantic moments of your honeymoon in Dubai in 2023.
4. Romantic Dining at Ossiano
So, dine at one of Dubai's most romantic underwater restaurants for a meal you won't forget. You can use yacht rental Dubai services in this regard.
At the Ossiano in Atlantis Palm, you can eat fine food in a room that looks like the ocean. Besides this, sharks and other sea creatures swim right by your table.
5. Embark on the Sea-breaker
Another exciting option for a honeymoon in Dubai is to ride the SeaBreacher, a high-octane thrill ride. The SeaBreacher is a cutting-edge, purpose-built boat powered by a robust motor.
The highly developed vessel can go both underwater and on the surface at tremendous speeds. If you and your honey are looking to do something a little out of the ordinary on your honeymoon in Dubai, consider booking an exciting marine ride.
Further, the top speed of the SeaBreacher Dubai is 80 kilometres per hour, and it can travel up to 40 kilometres per hour while submerged.
In addition to the adrenaline-pumping SeaBreacher ride, SeaBreacher UAE also provides access to a wide variety of other exciting water activities for couples to enjoy and make their honeymoon memorable.
6. Go to Dubai Aquarium
This aquarium, located at Dubai Mall, is one of the most popular attractions in the city. Here, you can explore more than 140 different types of marine life in a massive tank that is hanging from the ceiling.
Further, it is a one-of-a-kind encounter with marine life that may be had through participation in activities. For instance, cage snorkelling, shark diving, and a glass-bottom boat ride on top of the tank. Therefore, making romantic moments with your loved one.
What to Bring on a Honeymoon in Dubai?
Bring sunblock and linen clothes to protect yourself from the heat after considering yacht rental Dubai services. At the same time, since most indoor places have air conditioning, bring a shawl with you.
So, you don't get too cold. Also, don't forget to bring a long-sleeved shirt for religious sites. In addition, a beach cover-up if you want to be modest at the beach or pool.
Final Thought!
Let your first adventure together give you a rush. Adventure-loving visitors will find a lot to do in the city. From amusement parks to water sports, skydiving to hiking, Dubai will keep you busy and excited all day and night.
Fly over the city and jump out of an aeroplane over Palm Jumeirah. Try your hand at water sports at Kite Beach. Ride the world's longest urban zip line from Dubai Marina.
Soar over the clouds in a hot air balloon. Similarly, enjoy yachting with yacht rental Dubai. Enjoy thrilling rides at theme parks like Wild Wadi waterpark, Aqua venture, IMG, and Laguna.
Also Read:
14 Romantic Things to Do in Gainesville (GA)
5 Romantic Date Night Recipes for Your Partner