Having worn so many types of earrings, many women dream about new gold earring designs for their jewellery. They always look out for multiple earrings designs that go with every dress they wear.
While a few can only be worn with western attire, some appear better with traditional clothing. To appear one's best, one must always flaunt their jewellery! Giving someone gold might convey your feelings without actually saying anything.
Several trendy gold earring designs, as opposed to traditional gold earrings and accessories, cater to the needs of today's modern woman. It's time to make a wise decision now. We have selected a few amazing gold earrings designs that will awestruck any woman!
Yellow Gold Floral Stud Earrings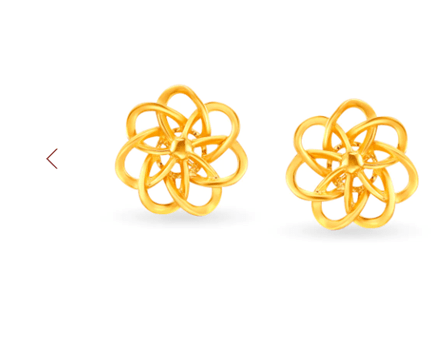 Put on these stunning Mia by Tanishq gold stud earrings as you prepare for the much-anticipated family gathering. These gorgeous 18 Karat yellow gold studs contain seven polished, interwoven golden loops fanned around a core bead, making a flower motif.
You can feel confident that you deserve the entire world owing to these enigmatic, finely made gold earrings.
Earrings with Feather Design
The hoops on these 14KT yellow gold earring designs are decorated with feathers. A projecting line identifies the rachis, and vacant spaces determine the vane.
These women's earrings are safe because of the screw posts and Bombay screw closures. The objects' stunning appeal is a result of their incredibly polished appearance.
These stylish earrings are urbane sets that suit everything in your closet, including pricey evening gowns and Indian sarees. These fashionable gold earrings might easily replace your current go-to pair.
Drop Earrings with Teardrop Design
These 14KT yellow gold earring designs are studded with 46 round brilliant cut diamonds. The diamonds are SI2 clear and range in colour from I to J. The earrings feature a rhodium-plated extended teardrop stud with diamond accents.
The lower structure, joined to the stud by an O-ring, comprises three open teardrop-shaped parts that have overlapped and interlocked. Unlike the outer two yellow gold teardrop elements, which are both simple, the middle white gold teardrop element has diamonds on one side.
The diamonds have a brilliant appearance because of the high-polished finish and rhodium-plated shared prong settings, which enhance lustre. The earrings come with Bombay screws and screw posts for a snug and comfortable fit.
14KT yellow gold drop Diamond shaped earrings
These 14KT yellow gold drop ladies' earrings have a machine-cut finish on the diamond-shaped stud. A diamond-shaped dangler with a hole in the middle is suspended from the screw post of the stud by a Rolo chain component and O-rings.
The earrings also have a dangler option that mirrors the bare studs. The earrings are held in place by friction posts and push-style butterfly closures. The high-polished finish on the earrings gives them a stunning appearance.
Yellow Gold Drops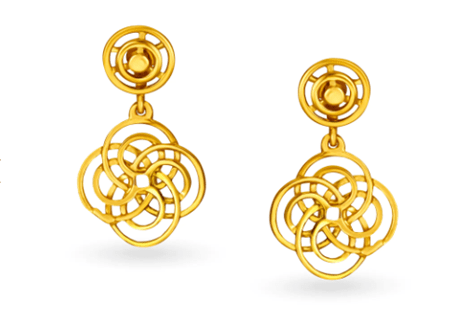 This pair of 14KT yellow gold drop earrings have a contemporary design. On the base, the stud is two concentric circles with a flattened bead in the centre.
Four small round elements and four overlapping significant circular elements make up the drop component. The Bombay screws used to secure these gold hoops provide comfort and security.
These elegant earrings go perfectly with fusion or Western attire since they exude sophistication.
Embrace your Personality with Grace
Wish to acquire these enticing pieces? All of these products are offered on Mia by Tanishq. It is for women who want to use these elegant jewellery pieces to express themselves. Mia by Tanishq has a lot of options for gold earring designs, so visit their website today!
Also Read:
5 Surprising Scientific Benefits of Wearing Earrings
A stylish simple gold ring designs