Mount Shasta
Mount Shasta is a volcano that is potentially active and found at the southern end of the Cascade Range in California.
It is the second highest peak located in the Cascades and also at the fifth number with the elevation of 14,179 feet in the entire state.
Undoubtedly, the volume of the Mount Shasta is found to be 85 cubic miles which are responsible for making it the largest stratovolcanoes in the Cascade Volcanic Arc. Well, this is one of the preeminent world's sacred mountains.
Mount Shasta is a full package of mystery and various unexplained stories that surround this excellent site.
It is a destination for gurus, sages, mystics, and some curious people that excited to know the endless stories related to this site.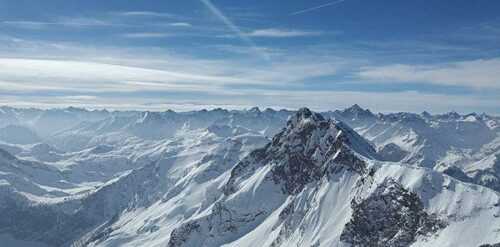 Those people who come to visit or live near this exciting place endeared this considerable mountain with their great thoughts.
Also, there is no doubt that Mount Shasta in a very unique and significant elevation in its way.
Those people who are used to live in or near Mount Shasta will tell you about the vital energy or vortex of it.
Mount Shasta Weather
When there is a clear day, Mount Shasta can be seen over 100 miles away. A volcanic eruption from Mount Shasta could match the scale of the 1980 eruption of Mount St. Helens.
Also, it is predicted that the effects of such an explosion around the towns that are closed to its surroundings be catastrophic.
So as the volcanoes stay active for a long time, usually for a year after an eruption, so the region has to be closed for a visit from the public for a very long time.
So many theories have suggested that there might have been a substantial human occupation along northern California over the decades ago.
Mount Shasta Mysteries
Our ancient ancestors knew that it was sacred to visit the vortex or any gathering place of earth's energy. So this one of the unique mountains has such a whirlwind.
If someone was near around such a vortex, then it activated its energetic bodies to make it possible for them to become aware of what mystics and exciting have discovered.
Also, It is such vortexes that any average person can sense. Someone has wonderfully described the Mount Shasta as it is lonely like god and white like a winter moon.

Usually, it is said that Mount Shasta hides a secret city beneath its broad peak.
There are many stories in which the city is no longer inhabited, but in others, it is occupied by a society having advanced technologies of human beings or some mythical creatures.
Also, some people usually describe the mountain as the home of some spiritual bodies, especially chef Skell who was descended from heaven to Mount Shasta.
Also, it is found from the various researches that Skell was fallen from heaven by throwing many hot rocks and lava which probably represent the volcanic eruptions at both the mountains.
Mount Shasta Facts
From the point of philosophical as well as spiritual logic, Mount Shasta is one of the most potent and impressive creation that is ever built by a man.
It is a creator based temple as well as a monument that is still alive. However, there are many theories behind the Mount Shasta according to which it will regenerate or erupt and can change its forms into the future.
Also, many Native Americans have found that Mount Shasta is the first earthly place that is created by the Great Spirit.
Also, they had observed that it is challenging and powerful for the average people to visit there.
It is found to be inhabited by the hosts of potentially dangerous guardians and spirits who could even harm a person who had travelled up the mountain without preparing for anything.
There is one naturalist whose name is John Muir had described the peak of the hill as a religious icon that had helped to spread the legendary fame of the mountain.
Also, when the discovery of the Mount Shasta was made, it soon became the must-see a place for the tourist destination in California.
Mount Shasta Spiritual
There are many intangible and some real stories that are responsible for making the Mount Shasta scared.
Also, some of these irrelevant qualities go beyond the appearance of the mountain. It is not only one of the tallest mountains on the west side but is also the most legendary one.
It is one of the sacred mountains that have unusual characteristics which are more than the accumulation of natural processes.
There is something different which makes the Mount Shasta a holy mountain that cannot be explained so easily.
It has a special kind of energy that is unique in its way and can be sensed or felt when it is seen.
Also, today many experts recognized that the sacred sites of Mount Shasta influence the human consciousness around the world and even to other living organisms in several remarkable and unusual ways.
Also, when any person enters such a sacred site which is known as powerful energy than the mind, body, and spirit as well are instantly affected.
Moreover, the power at these places can be easily felt, sensed, photographed, and can even be measured with scientific instrumentation.
The spiritual use of the power spots that are known for the Mount Shasta around the world is now thought to be the influence behind human civilization.

Previously, it was known that spirituality has increased the development of farming and villages and then invented religion as a coercive means to promote social control.
However, this theory is entirely backward. Also, now it is being known that humanity's spirituality is awakening the rise of human civilization.
Conclusion
Mount Shasta is one of the ancient sacred places of a mountain pilgrimage destination.
Also, the mysteries of such unique mountain are still to be found that is challenging the modern era of today's society.
Read Also:
Are you looking to book your next trip? Check out the following services we use and love or click the previous link to read more!
Booking To find best hotel deals.
Best International Flight Deals to Book in 2019.
World Nomads to ensure your trip.
Hostelworld to find a budget hostel.
Jetradar book Flight at cheap price.
GetyourGuide Guided Tours.