Visiting Places in Thailand
Thailand is one of the best tourist destinations in the world. It is home to various landscapes like thick, lush green jungles, crystal clear blue waters, tropical beaches, royal palaces, ornate temples of Buddha and ancient ruins, and many Visiting Places in Thailand.
Thailand is also famous for its aromatic cuisines that offer a compound blend of flavors & it also has a thailand pass system app. This exotic destination is cheap and safe, still has every modern amenity you may need.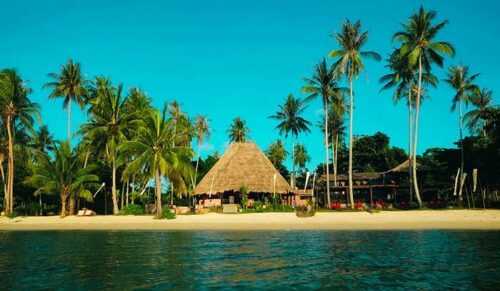 Beachfront backpacker bungalows to the best luxury hotels in the world offer accommodation options for all budgets. Temperatures range from 28 to 35 degrees in this tropical climate.
One may choose from various activities like swimming, snorkelling, surfing, rock-climbing, scuba diving, night safaris at national parks, Sea-canoeing, Full Moon parties, etc., to enjoy themselves.
Top Places to Visit in Thailand
Chiang Mai
It is a beautiful city surrounded by the mountains of northern Thailand. The city of Chiang Mai usually acts as a base camp for backpackers and tourists who wish to explore the lush green landscapes, visit regional tribes that dwell on the hills, and go on outdoor adventure activities in the region. You can easily book a bus from Bangkok to Chiang Mai.
Chiang Mai is a large and culturally significant city. It displays historical and modern Thai architecture exhibiting a traditional flair in its culture. There are many old city walls and dozens of Buddhist temples to walk around.
Wat Phrathat Doi Suthep is the most famous temple here and is located on a mountainside overlooking Chiang Mai's city. You can also check the Weekend tour package for Thailand.
Bangkok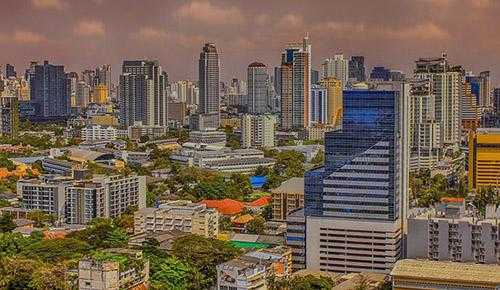 Visiting Places in Thailand is the capital city of Thailand and is famous for its busy street life, temples, and Royal Palace. The city is full of many high-rise buildings, ancient temples, and magnificent palaces.
Visiting the glittering nightclubs and bustling markets is an incredible experience. The streets are filled with vendors that sell souvenirs and a variety of tempting delicious food.
Sometimes the city is described as a concrete jungle full of noisy traffic and a polluted atmosphere, but it also has its own share of natural beauty in the form of canals, green spaces, and flowering tropical plant gardens.
Khao San Road is a famous tourist attraction, offering cheap shopping, dining, and nightlife options to begin with. Another attraction that should not be missed is the sacred Wat Phra Kaew temple, where the Emerald Buddha rests.
Kanchanaburi
It is renowned for its beautiful landscapes, proximity to national parks, and waterfalls and is located in Thailand's western part. Thousands of laborers who died while constructing the Bridge on the River Kwai during WWII also made Kanchanaburi famous.
Various museums and war cemeteries provide information about this bridge the Japanese constructed in the 1940s.
Erawan and Srinakarind National Parks and several other national parks lie outside Kanchanaburi and offer beautiful scenery, waterfalls, and caves.
Ayuthaya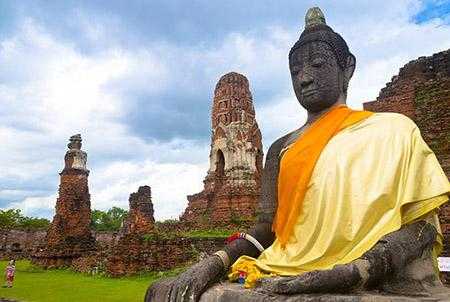 Visiting Places in Thailand, This city is located in the Chao Phraya River valley of Thailand, just 80 km (50 miles) north of Bangkok and was founded in 1350.
The island on which it is located is surrounded by three rivers and connects it to the Gulf of Siam. The Ayuthaya Kingdom, also known as Siam, was the capital of King U Thong's kingdom.
Ayuthaya was an impressive sight. Three palaces, more than 400 temples, three palaces, and a population of nearly 1,000,000 made Ayuthaya a magnificent city later attacked and conquered by the Burmese in 1767.
Then the capital was shifted to Bangkok. The ruins of Ayuthaya are a significant attraction for tourists visiting Thailand and can be easily reached by train, boat, and road. You can also read Things To Do in Russia.
Railay
It is a prominent tourist attraction that can be accessed by boats and is situated in South Thailand. High limestone cliffs separate it from the mainland and attract rock climbers from various parts of the world.
The beautiful beaches and serene atmosphere of Railay also make it a popular tourist destination in Thailand.
Numerous Bungalow resorts have been developed deep into the forest areas on the peninsula's eastern and western parts. Most of this construction is hidden among trees and landscaped gardens.
Phanom Rung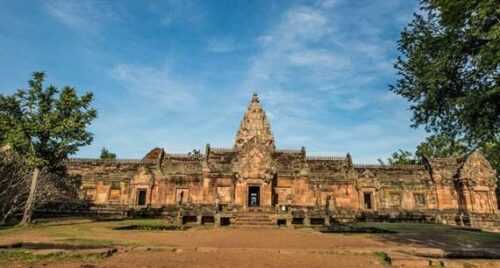 It is a Hindu shrine constructed of sandstone and Laterite, located on an extinct volcano near Nang Rong village in northeastern Thailand. This temple sanctuary is dedicated to Lord Shiva and was built between the 10th and 13th centuries by the Khmer culture.
Phanom Rung represents Mount Kailash, the sacrosanct home of Lord Shiva. Four times every year, the sun shines through all 15 doorways of the sanctuary.
During the April alignment, The Phanom Rung Festival is celebrated by locals, and ancient Brahmin ceremonies and modern sound-and-light shows are the key attractions. You can also read Most Adventure Places In Canada.
Pai, Visiting Places in Thailand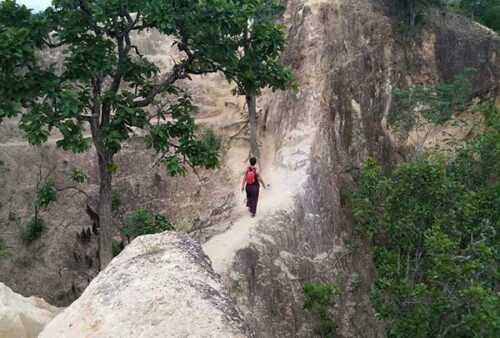 Visiting Places in Thailand is located in the foothills of the mountains and was earlier just a quiet village and is now a bustling town that lies between Chiang Mai and Mae Hong Son.
A relaxed, calm atmosphere makes it a popular destination for tourists and backpackers who wish to explore the picturesque landscape.
Pai has many trails for trekking and visiting hill tribes. Nearby Elephant camps, hot springs, and beautiful waterfalls also add to the charm of this town. Many water sports activities can be enjoyed on the river Pai.
Chiang Rai
The northernmost city of Thailand is famous for its Neon lit streets and acts as a commercial hub of the Golden Triangle, with borders of Thailand, Laos, and Myanmar.
During the day, it is a quiet town but springs to life as the night approaches and the neon lights flash on souvenir stalls and restaurants.
You can enjoy a memorable trip to Thailand by booking the Best tour package for Pattaya Thailand from Milesnsmilesholidays, a leading travel company in India.
Read Also:
Best Ultrasonic Jewellery Cleaner