Taj Mahal
Your trip to India is almost incomplete if you do not visit the most famous landmark of India, and that is, Taj Mahal.
The Taj Mahal is not only famous among the Indians but also popular all around the globe with almost millions of tourists visiting every year.
When I visited this iconic and beautiful place, I was seriously amazed at its beauty and simplicity.
I visited Agra by train from Delhi. It took approx 3 hours to reach Agra. I reached their early morning and have seen all the historical view of it in one day.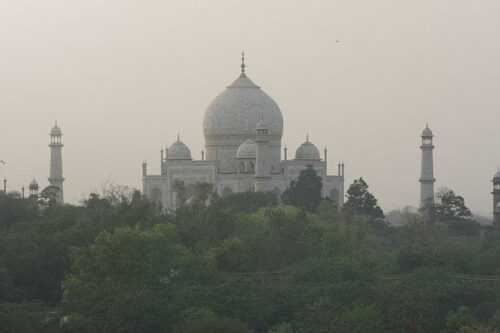 Taj Mahal is just 7 km away from the railway station of Agra. So, I took an auto rickshaw from the railway station and went to Taj Mahal.
There are three gates to enter Taj Mahal that are an East gate, West gate, and South gate.
Due to security reasons, the South gate has been closed so, and I entered through East gate.
The auto rickshaw has stopped in the car parking, and ticket house is near to it.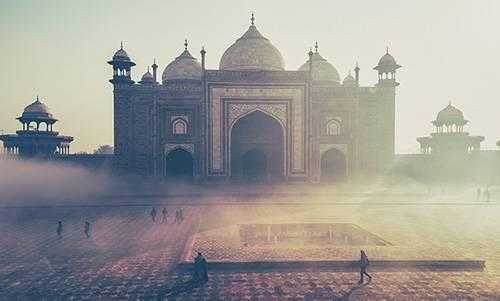 I purchased a ticket from there for Rs. 40/-. Foreigners have to pay Rs. 1000/-. I deposited my backpack in the ticket house.
Outside the ticket house, battery cars were standing to go through the entire Taj Mahal. I took it for Rs. 10/-.
The Taj Mahal
Thousands of tourists visit Taj Mahal daily. You can take a mobile phone, camera, and water bottle with you inside the Taj Mahal.
After entering the East Gate, you have to stand in a line to enter Taj Mahal. Here, the security checking will take place.
I stood up in line for approx. 2 hours. And then I began Taj Mahal. From this entrance, you have to walk down to the main gate.
There are big gardens on both the sides of this main gate. This main gate is also known as "Royal Gate."
I was very excited to see Taj Mahal for the first time. So finally, it was in front of me. Shahjahan has built it for his Begum Mumtaz.
It took almost 22 years to complete it, and nearly 20,000 workers build this beautiful monument. The complete structure is made up of white marble.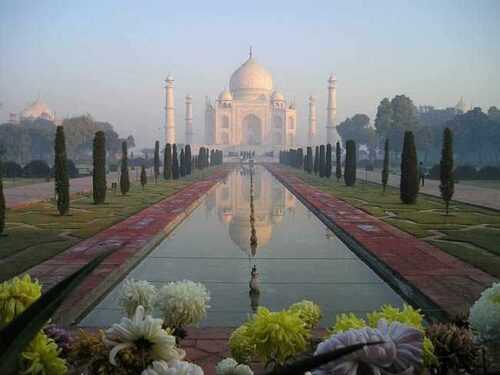 Well, you could identify a romantic tale behind the Muslim mausoleum of the 17th century. Mughal emperor Shah Jahan Built it in the memory of his wife, Mumtaz Mahal.
Taj Mahal is such a fairytale that you can explore with your family and friends.
I have seen many couples enjoying their best moments in Taj Mahal as if the memory of Mumtaz has given a chance to revive the couple's relationship.
The 7 Wonders of the World, Taj Mahal?
The Taj Mahal is one of the Seven Wonders of the World which is perfectly placed on the Yamuna River in the heart of the city Agra and has a magical view.
I took many photographs with foreigners. If foreigners have no problem, then you may take numerous photos with them.
There are many beautiful sights inside the Taj where you can take photogenic shots.
The video shoot is not allowed after entering the main gate. However, people do not listen to the rules, and they carry on clicking photos and videos.
Lakhs of people visit to see the beauty of Taj Mahal and most of them are foreigners. After walking straight for a little distance, I reached a pool in the centre.
Taj Mahal looks very beautiful in this pool. I clicked here many pictures. I arrived very close to the Taj Mahal. The entrance staircases were precisely in front of me.
The Way to Entrance
There are two ways to walk up the Taj Mahal. Foreigners walk through the left side, and you have to go through the right side. It is all because of the ticket cost.
So, I went through the right side and walked to the end. The gardens in the Taj Mahal are the same as being in England.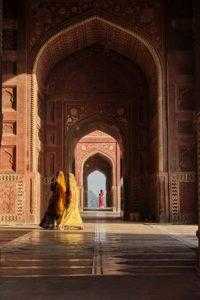 Here, I walked down the entire place in the gardens and enjoyed the weather. You have to wear shoe covers to walk up the stairs.
Here, it comes the backside of Taj Mahal. I was very excited to go up near the Taj Mahal. I have seen the Yamuna river from very close to me.
To climb up, you have to walk around Taj Mahal. Through the side of Yamuna River, you will go up the Taj Mahal.
After walking a little, I reached the mosque where Muslims pray every Friday. Due to this reason, Taj Mahal is closed for tourists on Friday. You can not enter Taj Mahal on Friday.
Then, I reached on the front gate. There was too much crowd because I visited there in June.
From here, I climbed upstairs and reached upstairs on the Taj. Then I entered inside Taj Mahal.
Photography is not allowed inside it.
There are beautiful carvings on its walls. There are graves of both Shah Jahan and Mumtaz Mahal inside it.
You can see the graves from outside from a little distance. These are not real graves. The real tomb of both of them is just below these.
After watching all the things inside it, I came out from another gate. From, here, I saw Yamuna River, and I walked around the Taj.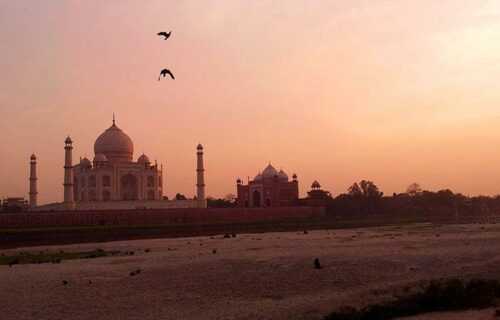 If you see taj mahal from any corner, it looks beautiful from every corner. The gardens look amazing from upside. After enjoying the weather and beauty of Taj, I came downstairs.
Taj Mahal looks fantastic on the night of Purnima. The Taj looks brighter and beautiful at the time of sunset.
Agra Fort is just 2.5 km away from Taj Mahal. You must visit it and enjoy the historical view of Agra. Also visit one of the other wounders of the world, Great Pyramid of Giza.
Taj Mahal, a Temple or a Mosque?
According to many laws of the 17th century, only Muslims were allowed to enter and worship the place. However, the rules demanded that Hindus should also visit the area.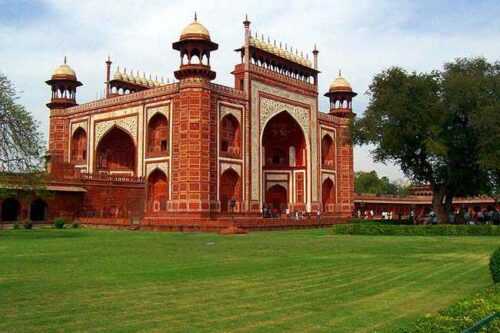 Originally the site got the name of Tejo Mahalaya dedicated to Hindu God Shiva. With this, the news of Taj Mahal is a Hindu Temple surfaced.
Also, Many true stories say that many Muslim invaders have destroyed Hindu Temples and converted them to Mosque and now Taj Mahal would be even following Hindu structure initially.
Tips Regarding Visiting Taj Mahal
Many questions make people more curious about visiting the Taj Mahal. Like
what to bring to the Taj?
Is there any code dress that one has to wear in the Taj Mahal?
When to visit the Taj Mahal?
Don't bring your valuable belongings when you are going to visit the Taj. It is because as many belongings, you will carry with you the more time you have to spend while checking in.
The only essential things that you need to bring with you are a passport, water, medicine, camera, money, phone, and some identity proof.
If one wants to join the mosque, then it is mandatory to cover the head, knees, and shoulders.
You must wear light clothes while visiting The Taj. It is because there is too hot and also very little shade in Agra.
It opens at 6 am, and as it is too hot in Agra, so you can prefer to visit there as early as it is possible.
No food is available inside the Taj.
Check out the list of Best Indian Food for Travellers
Taj can even be shot the best from some parts of the Red Fort.
Experiencing the Taj Mahal is superb. It would help if you visited Taj Mahal at least once in your lifetime. You will find why this place is fantastic.
Are you looking to book your next trip? Check out the following services we use and love or click the previous link to read more!
Booking To find best hotel deals.
Best International Flight Deals to Book in 2019.
World Nomads to ensure your trip.
Hostelworld to find a budget hostel.
Jetradar book Flight at cheap price.
GetyourGuide Guided Tours.