Are you off to your most-awaited vacation? If yes, buckle up, for before an exciting time of relieving stress and rejuvenating yourself comes a great deal of planning a Pet-Friendly vacation. Travelling comes with its challenges, especially when you are not travelling alone.
Going on a vacation with your closest friends or family is bound to be joyful and memorable, but planning a trip gets more complex with more people involved. And when that trip involves a furry companion or two, there is a lot more you may need to consider.
Bringing your pet with you on vacation can be exciting, but only if you have made all the arrangements beforehand. Planning everything for a perfect vacation with your pet can be challenging, so we have listed some tips to avoid extra stress and make your holiday a success.
1. Pet-friendly accommodations are a must
Picture this: you have spent hours travelling to The Great Smoky Mountains, your pet in tow. You are ready to put your pet to rest and catch up on your long-awaiting sleep.
However, you reach your hotel, and they tell you that pets are not allowed. Finding out you have mistakenly made lodging arrangements that cannot accommodate your furry friend can make for a rocky start to your vacation, and it's a rookie mistake you do not want to make.
Those who have had experience vacationing with their pets understand the importance of searching for pet-friendly lodging and knowing a hotel's breed and weight restrictions, amongst other things.
If you are still looking for a pet-friendly space to have the best pet-friendly vacation with your companion, look no further than Smoky Mountain cabin rentals.
2. Make sure your pet is healthy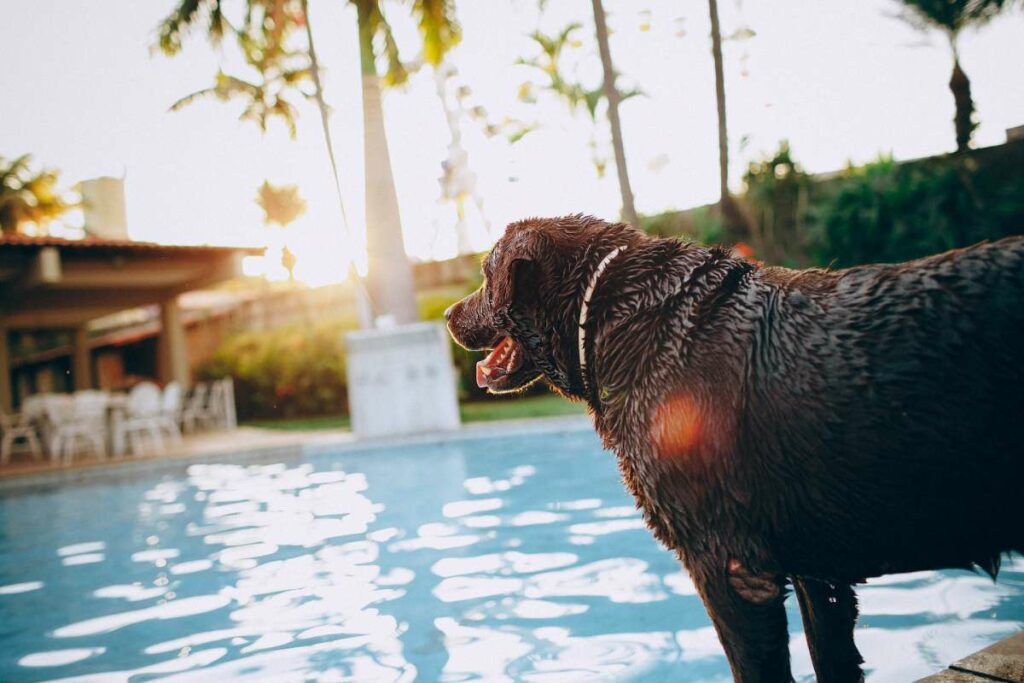 A healthy pet makes a happy pet, and a happy pet means a happy owner. Before packing your bag for your vacation to the Smoky Mountains, schedule a visit to the vet to ensure your pet is healthy.
Nursing your pet to health can be distressing for any pet owner, but doing so in an unfamiliar place can make for an even bigger nightmare. To avoid that, vaccinate your pet-friendly vacation and check for all possible diseases before hitting the road.
If you travel out of the state or the country, you may also be required to show your pet's health certificate beforehand. Therefore, taking your pet to the vet ahead of time will ensure you have all your pet's health-related documents ready for the travel.
3. Keep First-Aid Kit
Taking care of a pet is almost like taking care of your child, and like with any child, you will have to constantly check on them during your vacation to ensure they don't get hurt or injured.
If your pet has any health condition, double-check whether you have all their medicines before you take off.
In case of any unfortunate accidents during the travel, it is best to have a first-aid kit ready to help your pet immediately without helplessly waiting for the vet. Vacationing with pets has risks, so it is better to be safe than sorry.
4. Safe Travel Arrangements
When it comes to travelling with pets, nothing is one-size-fits-all. Every pet has its temperament and planning where to vacation and how to reach there will largely depend on what your pet finds comfortable.
Every pet is comfortable going on a journey halfway across the world- they might prefer a short car ride with you instead. Choosing how to journey for your pet-friendly Smoky Mountains vacation visit is a decision you'll have to make.
Most pets find it comfortable to travel familiarly. If you have been on road trips with your pet before, it may be best to travel the same way this time. However, make sure to keep them in a carrier throughout your journey.
A little jerky movement of the car can do more harm than you may know, so keeping the travel safe for them is a must. Use harnesses on the seats to avoid injury if your pet is too big for a carrier.
If you are planning to travel on a plane, research the pet policies of different airlines before booking a ticket. Stay informed about their carrier rules to avoid confusion and disruption during boarding time.
5. Microchip your pet
Life is unpredictable- there is always a risk, a possibility for something you cannot control or did not expect to happen. Separating with your pet is one of those possibilities you should not discount.
Vacationing with your pet is supposed to be a joyful time, but it can turn into a storybook horror if you lose them. Make them a collar with your name and contact information to ensure you can reunite with your pet in emergencies. Hopefully, the person who finds them will be kind enough to reach out to you.
However, relying on someone else's kindness to find you your dog is not an ideal solution. Consider implanting a microchip under your pet's skin before leaving. Doing so would make your pet traceable if you get separated from them, allowing you to bring them back quickly.
6. Keep your itinerary flexible
Every pet owner knows how hard it can be to stay on schedule with their pets. They may get thirsty or hungry the moment you are ready to leave for your day out.
Sometimes, they may not even be in the mood to leave the hotel and go somewhere. Looking after their many needs and the frequent crankiness may leave you late for many pre-planned activities.
It is best to keep your itinerary flexible to allow some wiggle room. Free up some space between activities to keep your dog comfortable. As convenient as it could have been, you cannot plead with your dog to cooperate when getting ready for a day out.
Therefore, the only way to make this vacation work is to keep your schedule flexible enough to meet your pet's impromptu needs.
Conclusion
When you have a pet, there is always this persisting temptation to take them with you wherever you go. However, it is essential to consider whether your pet would want to go.
Some pets prefer staying in the comfort and familiarity of their house over exploring unfamiliar places in unfamiliar settings. If you think your pet may feel uncomfortable travelling or remain in a new environment, it may be best to leave them home instead.
It is understandable if you find the prospect of separating from your companion and leaving them behind. If you believe your pet may not enjoy going to an unfamiliar place, you may need to say your goodbyes for the time being.
The whole point of a pet-friendly vacation is to have fun; an irritable pet will only hold you back from enjoying it to the fullest.
Also Read:
Best Pet Friendly Restaurants in Missoula
House Moves For Pets: Essential Pet Travel Accessories For Your Fur Baby