The Vacation to Mauritius offers a magnificent experience to everyone who decides to enjoy a holiday trip there. The island is known for its incredible beauty and is a popular tourist spot for families all around the world.
However, did you know that there is another amazing attraction in the country? Mauritius is surrounded by reefs and therefore is an incredible place for fishing.
There are various forms of marine life in the waters and the island has several amazing fishing spots that you should not miss out on. Learn more about the fishes, the locations, and other things about a vacation to Mauritius down below.
The Top Fishes to Catch in Mauritius
Mauritius is located in a part of the Indian Ocean, where there is a large variety of fishes to catch all year round. These fishes make for some amazing seafood dishes as well.
To learn more about different kinds of seafood dishes, consider visiting Speaking of Seafood and learn which are the best fishes and seafood dishes. Now, let's dive deeper into some specific species that are considered to be the best catches in Mauritius.
1. Blue Marlin
Every angler and fisherman alike has dreamed of catching a blue marlin in their careers. These fishes are known to be extremely agile and can grow past a thousand pounds. Only the most capable anglers are able to catch this fish since they put up quite the fight when you hook onto them.
This fish is caught all year round on the vacation to Mauritius but it's best to fish for them from November to March as the high season is the best time to fish for them.
As mentioned earlier, these fishes can grow past a thousand pounds with the biggest catch recorded being about 1376 pounds!
2. Mahi Mahi
While some people visit Mauritius to see its beautiful locations, such as The Seven Coloured Earth of Chamarel, fishing enthusiasts visit the island in hopes of catching a Mahi Mahi, which is one of the most popular fishes you can find there. This is because the fish is extremely delicious and photogenic.
Although these fishes are good targets regardless of your skill as a fisherman, be careful as they are known to be strong and agile.
The Mahi Mahi is, however, pretty easy to catch during a feeding frenzy which makes them great for practicing fishing. The deep waters are pretty close to the island's shores and this fish can be found on the outer edge of the reef that encircles the island.
This requires the season and sea conditions to align. Usually, it is recommended that you fish for them on a 10-15 mile range or further at the offshore banks.
3. Great Trevally
The Great Trevally is a highly prized fish in the Indo-Pacific region and is quite popular among anglers who love challenges and adventures.
This fish is pretty much everywhere around the island but if you are interested in catching the specimen that crosses a hundred pounds, then get on a boat and ride far offshore into the water before looking for them.
These fish are among the favorites in the local region; one of the many reasons for that could be the fact that it is a challenging game as the fish are both strong and fast. Furthermore, the fish is also known to have a lot of stamina which makes catching them even more challenging.
If you are a fisherman visiting Mauritius, then it would simply be a crime if you didn't try and catch this fish.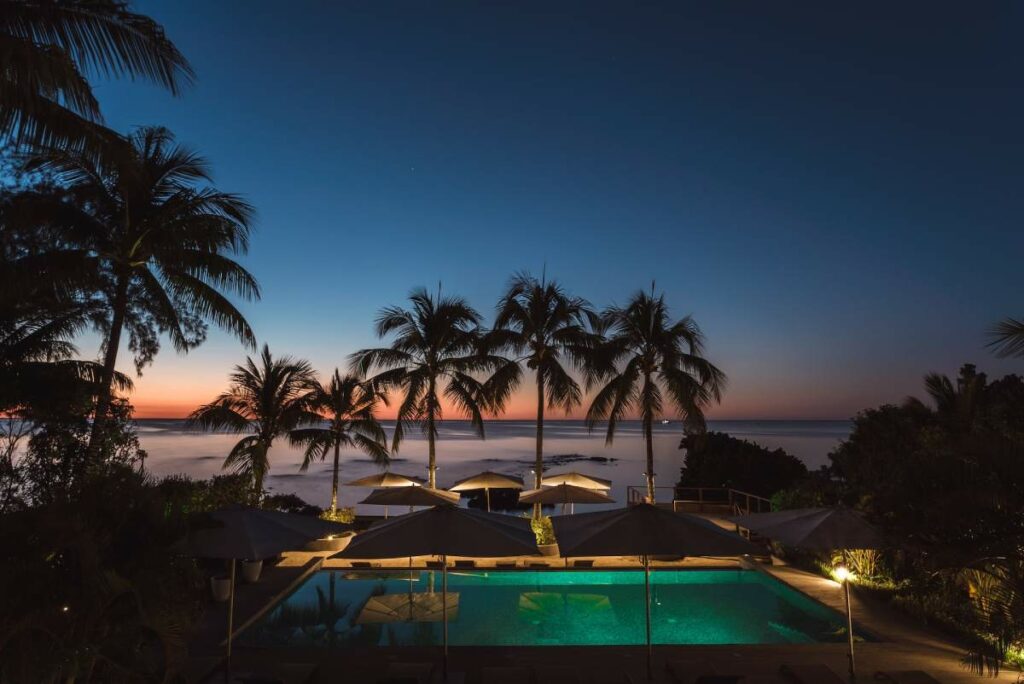 Best Ways to Go Fishing in Mauritius
Now that we have talked about the top fishes to try and catch, it's time we take a look at how fishing is done in Mauritius. Usually, there are two methods used to go fishing in Mauritius – charter fishing and shore fishing.
Charter Fishing
Mauritius has no shortage of expert charter captains who can take you out into the open waters for catching fish. A charter boat will let you move from one place to another without and you can go off far away from the shores.
Going offshore, let's say about a hundred miles, is where you will find the best fishing grounds vacation to Mauritius has to offer. Furthermore, when switching to different fishing sites, you don't have to carry all your equipment around as all the load can be carried by the boats.
In fact, the captains of these charter boats will provide you with all the equipment you might need for fishing and you won't even have to bring anything yourself. The captains will also be able to guide you to the best spots while showing you the best techniques you can use as well.
Shore Fishing
Charter fishing isn't your only option, you can also go to the shores and cast a line out into the waters to catch your prey. The locals will also be able to aid you as they have a lot of experience.
To make the deal even better, these beaches and lagoons are some of the most incredible sights you can find on earth! These are must-visit locations in Mauritius, especially if you love beaches and fishing on beautiful shorelines.
In this case, you will need to bring your gear along or you will have to rent some from the nearby rental stores. You can go into the water when the tides are low and see what you can catch. Small fishes such as the Trevally are the best targets when you are fishing from the shores.
The Best Fishing Locations in Mauritius
At last, let's check out some of the incredible fishing grounds in vacation to Mauritius you can go to in order to satisfy your fishing desires. These locations offer an exquisite fishing experience and you surely don't want to miss out on visiting them!
Black River
One of the best fishing sites on the west coast of Mauritius, the Black River is a beginner-friendly area as the waters are much calmer than on the east coast.
The Black River is great for deep sea fishing and many competitions are held on this fishing ground. The location offers a large variety of fish that you can try catching. Yellow Tuna, Mahi Mahi, Giant Trevally, and many more!
Trou d'eau Douce
If you are looking to fish for some big game then Trou d'eau Douce is one of the best vacations to Mauritius has to offer. This place is located on the east coast of the island.
As the translation of the French name suggests (Sweet Water Hole), fishing and snorkeling are both great options here, as the place offers a great variety of marine life alongside a coral reef.
Le Morne
Located on the southwestern edge of the island, Le Morne is extremely popular and is known as the place where fishing legends are made.
This is a great spot for deep sea fishing as the waters become incredibly deep just a little distance off the coast. Additionally, there is an underwater waterfall that will leave you mesmerized.
You can go into the deep waters if you wish to catch fish such as the Grander Marlin or stay by the shore where you can find smaller fishes such as the Trevally.
This place is right beside the black river and you can finally go after the big game you have been dreaming about!
Soudan Banks
If you are a committed angler whose main goal on the island of Mauritius is to find the thrill of catching game fish, then traveling to the Soudan Banks is definitely worth it.
This fishing site is located about a hundred miles from the island and you can find an abundant variety of fish to catch. The Gaint Trevally, Marlin, Tuna, and Sailfish are just some of the species you can encounter on these remote reefs.
Poste Lafayette
Located just a little distance off the coast of the Poste Lafayette public beach, there is a fishing spot that all fishermen should visit if they can. You can find Barracudas, Snappers, Giant Trevallies, and several other species in this fishing location.
Furthermore, if you are looking to fish casually, then you can just stick to shore fishing by the beach and reel in different inshore fish.
Conclusion
Going on vacation to Mauritius for the view alone is worth it and if you merge the island's incredible beauty with all the different fishes and fishing locations, you get a vacation that is likely to remain in your memories for years to come, especially if you love fishing. Mauritius is truly a heaven for all fishermen.
However, one thing you should remember is that these places have their own rules and regulations, so be sure to abide by them and you should be good to go!
We hope that this article has interested you in a fishing trip to Mauritius and we hope your fishing endeavors become successful. Good luck!
Also Read:
Places to Visit during the North Tour of Mauritius
The Seven Coloured Earth of Chamarel (Mauritius)