Travelling can be a lot of fun, but it also can be stressful on the mind and body. You may be worried about staying physically well, but mental stability is just as crucial.
It's incredibly challenging for those individuals who struggle with mental health issues. For example, if you live with depression, anxiety, or bipolar disorder, you may experience mood shifts.
Mental health and stress-free travel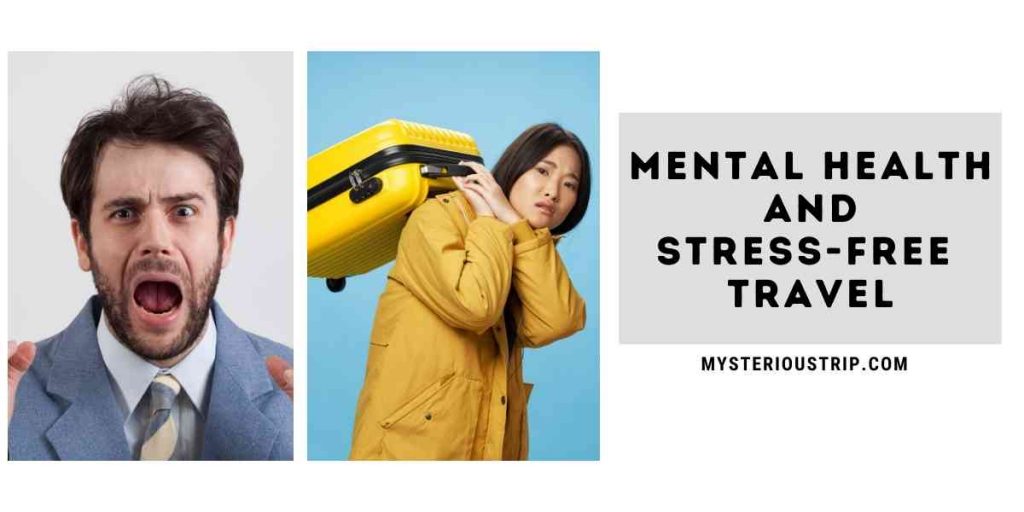 If you suffer from panic attacks, aspects of traveling could be triggering. That's why it's crucial to be mindful of your anxiety and if it's getting out of control, make sure to listen to your intuition.
If you have a therapist, make sure to reach out to them. Symptoms of mental illness can be exacerbated during travel when you have mental health issues.
One thing that can help to be prepared for the trip. Make a list of what you need to keep your mental health and wellbeing stable during your travels.
Maybe you have a security object that makes you feel calm, such as a blanket, pillow, or fidget cube. For those who have anxiety or ADHD, having a fidget object can calm the mind. 
If you are alone, you can travel with your pet can give you stress free travel.
Planning your journey
There are things that everyone does before their travels. People pack their suitcase or backpack; they confirm their tickets, accommodations, or hotel stays.
They check for travel delays and make adjustments to their trip times.
In addition to the typical travel preparations, there are things you can do to prepare when you have mental health issues. Talk to your doctor and therapist, and discuss your upcoming trip.
Mention any treatments you're engaging in for anxiety, depression, or substance abuse. Ask your therapist, or doctor, how you can keep going with your treatment plan, even when you're away.
If you're taking medication or supplements, make sure you pack them.
It's okay to ask your therapist if they know a mental health professional in the area you're traveling to, so in case you have a crisis, you can call that individual. If you're traveling internationally, see if there's a way you can video chat with your therapist while you're gone, just in case.
It's crucial to talk about these concerns with your therapist to hash them out before you go.
Enjoying your trip
Now you're on the trip. Congratulate yourself for making it! You can maintain your mental health by getting exercise where you are. Maybe that means sight-seeing or taking a hike in nature.
You also need to be mindful of what you're eating.
When you're on vacation, or even away from home for business, it's tempting to indulge in food and drink. It's okay to treat yourself, but make sure you don't overdo it. Eat healthily and take care of your mind and body.
If you take medicine as part of your treatment plan, make sure you're following your daily routine.
Traveling is a lot of fun, but it can off-set your schedule. Your journey should not throw off your mental health if you take precautions to keep yourself grounded.
Returning home and checking in with a therapist
When you return home, check in with your therapist. Whether you see a counselor in private practice or meet with an online therapist, it's crucial to check in with that person. Online therapy is the perfect place to express your feelings.
You can use a company like BetterHelp to find a counsellor who is an excellent fit. You can meet with your therapist using your smartphone. https://play.google.com/store/apps/details?id=com.betterhelp&hl=en_US.
If you have an online counselor you may have checked in with them on your trip. There's internet access around the world. You can let them know how the trip went after you spoke to them.
Traveling can be stressful, but online therapy is a fantastic and flexible way to get mental health treatment.