Cuba is one of the countries in the world that's unique and full of wonders. It has verdant forests, idyllic beaches, rich history, and colourful culture.
You can see vintage cars cruising the old city streets, hear live music wafting through the people-filled plazas, and feel the vibes of towns that came out from olden times.
Then, there are delectable eats to boot!
The United Nations has named a great part of Cuba as a UNESCO World Heritage for the country's well-preserved history and amazing culture.
Indeed, if you visit Cuba, you'll have plenty of places to include in your itinerary. Here's a list of the most top-rated places to visit in this beautiful country of Cuba.
Best Places to Visit in Cuba (Top-Rated)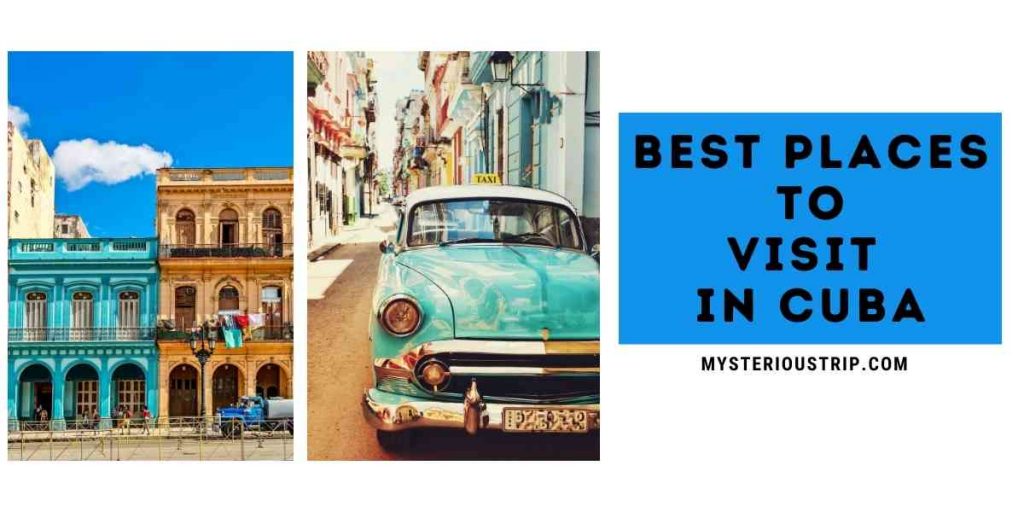 Trinidad
This town in Central Cuba is like a painting that tells the story of the 19th century. It preserves numerous colonial buildings from the Spanish era, making it one of the country's UNESCO World Heritage sites.
In Trinidad, you can find the 19th-century cathedral called Iglesia de la Santísima, with its carved altars and vaulted ceiling. There are also museums like the Museo de Arquitectura Colonial and Museo Romántico in this quaint colonial town.
Horse-drawn carriages ply the cobbled streets, and you can find picturesque delight in every corner. If you want to dip in the waters, you can go to Playa Ancon, a famous beach on the country's southern coast.
Old Havana
Habana Vieja, also known as Old Havana, is the main attraction in Havana, Cuba.
This place has so much to offer to curious tourist. There's the neoclassical and Baroque architecture that lined the nostalgic streets of the city.
One great example of such architecture is the Cuban Baroque Catedral de San Cristobal.
If you're a fan of Ernest Hemingway, you shouldn't forget to visit his favourite restaurant called the Bodeguita del Medio and try its delicious foods and drinks.
Then, roam around the Plaza Vieja and meet some of the residents and foreigners who are taking in the feel-good atmosphere of the place.
Maria La Gorda
Maria la Gorda is a small town on the western tip of Cuba. Even though this place doesn't have plenty of infrastructure, many people still visit it throughout the year because of its world-renowned diving spots.
Maria la Gorda has a rich marine life, which makes it a favourite destination for local and foreign scuba divers.
You can avail of guided trips and travel packages that include diving, snorkelling, dining, and hotel accommodation.
Cayo Coco
Cayo Coco is among the most isolated and idyllic beach spots in Central Cuba.
It's located within the Ciego de Ávila Province and is part of the string of islands known as Jardines del Rey. You can get to Cayo Coco via air or land travel (there's a bridge that connects the island to the mainland).
White-sand beaches and pristine waters are the most appealing features of this wonderful island. If you want some peace while absorbing the beauty of Nature, you can go to Playa Prohibida and Playa Los Flamencos. But there are also other beach resorts on the island if you need some beach party vibes.
While travelling the island, you should always see to it that your mobile phone has mobile credits. Lookup mobile top-up in Cuba to recharge the credits of your phone for you to stay connected with your loved ones.
Viñales Valley
If you want to see mountains, limestone cliffs, and lush forests, make sure to visit Cuba's Viñales Valley.
This valley lies within the Sierra de Los Organos mountain range, and it's one of the most stunning travel destinations in the Caribbean country.
Viñales Valley is the perfect spot for folks who love Cuban cigars because it's the place where the world-famous Cuban tobacco is grown and harvested.
You can also find numerous cave systems in the area, such as the Cuevas Los Indios, to satisfy the adventurous traveler in you.
Cienfuegos
While most cities in Cuba have a Spanish influence in terms of customs and architecture, the city of Cienfuegos is heavily influenced by the French. This city is a must-visit place because of its well-preserved 1950s houses and structures.
You can also go to the art galleries and museums located in the Plaza de Armas.
Cienfuegos city center is the Pueblonuevo, where you can explore Cuban culture, food, and history. Also, don't miss the experience of roaming around the harbour part of the city and behold the Bahia de Jagua, one of the most beautiful bays of Cuba.
Peninsula de Zapata
Peninsula de Zapata is a remote area located in southern Cuba.
It's a UNESCO Biosphere Reserve, and it's famous for its numerous bird species, such as waterhens, bandicoots, pygmy owls, the bee hummingbird, the Cuban tocororo, and more.
You can also find swampland crocodiles on the island.
Takeaway
Cuba is indeed a country that you must visit in your lifetime.
It has an array of natural tourist spots, pristine beaches, and colonial and modern architecture. The country's rich history and colourful culture are also something to fill your travel memories when you visit this beautiful Caribbean country.
Read Also:
Travel to Mysterious Or Haunted Places