Do you love to travel Solo? If yes, then there are some quite exciting apps for solo travel. There are some best applications for solo travelling and you can use it to reach your desired destinations.
If you love to travel and are making up your mind for spending a vacation then you need to plan things out. You need to book hotels, book tickets for transportation purposes and you need to plan a trip for the places you want to visit in your vacation.
If you want to choose between different accommodation options and compare prices, try the Cozycozy.com application. The search engine compares the offers of various booking sites so that you can choose the one that suits you best. Available for both Android and iOS.
Today. Travel Mobile Apps are capable of solving a wide range of problems for travellers. You can use these apps to spend a fantastic vacation in your desired destination of your choice.
Just you need to install these apps in your phone to get the maximum benefits out of it.
if you travel for business you can check travel apps for business.
10 Best solo travel apps in 2020
Here are some of the best apps that you can use for solo travelling. Just you need to select and install the best one that can help you in satisfying your requirement most effectively. You can make your vacation awesome using the following apps.
#1 SoloTraveller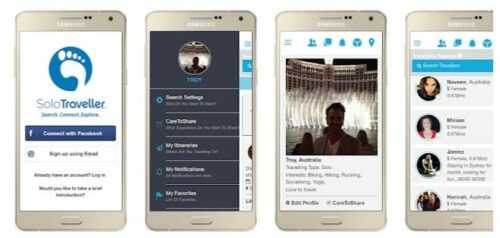 This is one of the best solo travel apps that you can take the help of.
It is the most widely trusted app that solo travellers can use in their trip. You can make new friends with the help of this app in your city who is also planning a solo travelling trip.
It will also help you in pairing you with your solo traveller and you can share the taxi fees, tours and other travelling expenses. You can discover your own travel mate based on your age, interest and gender. Hence, you can enjoy your trip with your solo partner.
One of the best solo travel apps to get free or stay with local peoples. This app helps the travellers to find the best hotels in their booked destinations.
Travellers can seek help from the local host of this place and seek the guidance to stay in the proper place during their travel. There is a filter placed in the app that will help you to find the place where you want to stay as per your age, gender, friends, and users. You can also seek the help of your potential host to take the guidance from then also.
This app is almost like Tinder, but it is meant for solo travellers. This app will provide you with the information of the people who are heading towards a similar destination and having similar interests.
You can meet up with a person when you find a match of similar kind of people like you. While you book hotels, pubs, crawls, restaurants and the local tours, then you will receive points for that.
You may wish to travel alone, but it does not mean that you need to dine alone. From this app, you can find partners with similar interests to spend time with them during dinner so it can be a fantastic app for solo travellers.
This app will help you to connect with the locals of 130 countries to dine with them. You can enjoy truly delicious cuisine from this app as per your choice. This app allows you to participate in the parties and to spend some beautiful time with the local host of the destination.
This app can be the best alternative to the Eatwith app as it also provides some incredible food experiences. In case of home meals, dinner parties, picnics and barbeques this is the most enchanting app go, solo travellers, that they can get.
This app will provide you with the complete information of your nearby restaurants, bar, and sommeliers in some of the major North American cities. It shows you how to drink and eat like a pro.
This app targets the young travelers of North America to enjoy their solo trip.
In this app, you can easily connect with some of your fellow travellers and meet with them before you commence your journey. You can make contact with your local travellers who may accompany you on your journey.
This app brings together all the likeminded people from all over the world from thousands of cities. You can discover people with similar interest groups who like animals, running, dancing, and more.
This app is basically a social network for all travellers. It will match with other nomads who like to travel solo. It comprises the broad range of travellers especially the urban tourists, gap year adventurers and backpackers.
Tourlina is one of the best travelling apps for female solo travellers. It helps women to find their best travel companions. It helps the woman solo travellers to find their partners.
You just need to put your travel dates and destination to plan a trip with your travel partner who is present in your app. You can also message then to plan a trip as per your choice and time.
If you are going through the phase of mental trauma from the incident of your breakups. You can use this app to rejoice and refresh your mind by making a solo trip to your desired destination.
You can make connections with health and wellness experts to get the advice from then to make a faster recovery from this current situation.
This app provides a perfect guide for your travelling in places like Boston, Los Angeles and London.
Conclusion
Hence, if you are travelling solo, then you can take the help of these 10 best apps. Most famous entrepreneurs of the world believe that for the past few years, the demand for solo travelling has increased a lot.
People feel reluctant to move in groups; instead, they want solo travelling to enjoy their vacation.
The matter of fact is it is the taste of the new generation. They love travelling solo, and they like to make some new friends always. Hence if you are also falling in the same group of people, then you can take the help of these apps to make your trip worth memorable forever.
Read Also:
Renting a Luxury Car With a Driver in Dubai