Sai Heritage Village is a special place in Shirdi, Maharashtra, India. It is not just a regular park—it is a mix of a spiritual journey and a fun day out for families and people who admire Sai Baba.
The park started in July 2014 and is like a time machine. It takes you back to the time when Sai Baba lived. Big statues are showing essential moments in Sai Baba's life.
You can walk around and see how the village looked back then. There are copies of old houses, shops, and places where people gathered.
You can also see artists making things like they did in the old days. It is a unique experience combining learning about Sai Baba's teachings and having a good time with your family.
Even though Park is a spiritual place, it is also a lot of fun for the whole family. There are rides, games, and a play area for kids. You can even take a camel or horse ride.
Indulge in fun activities at Sai Heritage Village
In the peaceful setting of the Park, there is more than just looking at things. They have fun things to do for both kids and adults.
You can feel the excitement by riding on the ropeway and spinning on the toy train. It is not just a place to see; it is a place to have a great time with your family.
Additional Attractions at Sai Heritage Village
An intriguing mix of faith and culture, the Park enhances the pilgrimage experience. In the Sai Baba Temple's holy premises is a peaceful meditation garden for introspection. Cultural acts from India enrich the spiritual trip.
The village offers a complete experience that makes tourists grateful for its spiritual tradition.
Beautiful and Well-Maintained Garden: View the beautiful green gardens and the colorful flowers. It is a peaceful adventure surrounded by nature's beauty.
Restaurant: You can enjoy various delicious vegetarian dishes at the on-site restaurant.
Camel and Horse Ride: Experience the camel and horse ride.
Sai Heritage Village Location
A peaceful setting increases the spiritual experience at the Park. The refuge encourages pilgrims to learn from Sai Baba in nature.
The village's tranquil gardens, hallowed temples, and vivid cultural performances make for a wonderful journey. It's a spiritual and natural paradise that welcomes all.
On the Ahmednagar Highway, Sai Heritage Village is approximately 3 kilometers from Shirdi's main Sai Baba Temple.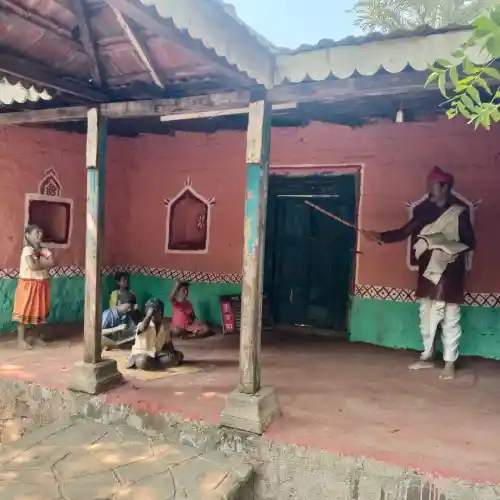 Sai Heritage Village Timing
Sunrise in the Park brings spiritual peace and cultural richness. The intentionally expanded hours let devotees enjoy the peaceful gardens, spiritual rituals at the Sai Baba Temple, and exciting cultural acts.
The well-planned timetable allows for introspection, worship, and cultural enrichment, allowing everybody to engage in the spiritual melody.
| | |
| --- | --- |
| Day | Timing |
| Monday – Sunday | 8:00 AM to 8:00 PM |
Sai Heritage Village Ticket Price
Sai Heritage Village entry fees are inexpensive yet open a world of spiritual growth and cultural beauty. It goes beyond entry, preserving the Sai Baba Temple and its cultural acts.
It's an investment in a meaningful journey that preserves an essential spiritual tradition. This sacred excursion is more than a visit—it preserves history and promises spiritual enlightenment.
| | |
| --- | --- |
| Categories | Price |
| Adults (12 years and above) | ₹100 |
| Children (5 to 11 years) | ₹50 |
| Children under 5 years | Free |
Nearby Attractions from Sai Heritage Village
Encircled by a number of spiritual and cultural marvels, the Park serves as both a destination within itself and a point of entry to a variety of neighboring sights that enhance the religious experience.
These locations are close together, which makes for an additional tour by allowing pilgrims to look deeper into the various parts of the history and spirituality of the area. Let's now explore the names of these close-by sights:
Sai Baba Temple: The Sai Baba Temple is dedicated to Sai Baba, a saint.
Shirdi Sai Samadhi Mandir: Shirdi Sai Samadhi Mandir is a temple that houses the samadhi of Sai Baba. Mauli Nagar, Shirdi, Maharashtra.
Wet N Joy Water Park: It has slides, pools, and a wave pool. Along Old Pune to Mumbai highway, it has a slide for everyone.
Dwarkamai: Dwarkmai is a humble mosque that was a former home to the venerable religious leader, Sai Baba of Shirdi. It is a place of pilgrimage for Hindus as well as Muslims. It is a common ground where people of all faiths can receive spiritual guidance and motivation.
Khandoba Mandir: Khandoba mandir is a shrine to Khandoba, the Hindu god. Situated in the Khandoba ghat region of Shirdi, this is the most visited site in Shirdi.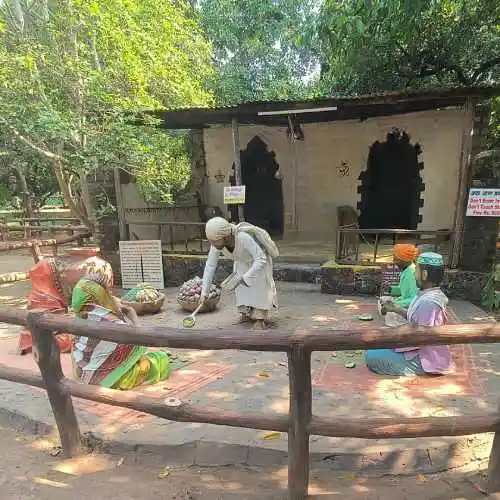 Closest Hotels from Sai Heritage Village
Surrounded by spirituality, the Park welcomes pilgrims within its hallowed grounds and provides nearby pleasant accommodations.
Visitors can relax after a day of spiritual discovery at these neighboring hotels, which combine modern conveniences with a peaceful atmosphere. Explore these closest hotels' names:
How to reach Sai Heritage Village
Traveling to the Park is easy and convenient, thanks to well-maintained pathways. The community greets followers with open arms, whether they arrive by car, train, or airplane, establishing a feeling of respect and expectancy.
Not only is the trip to this hallowed place a physical one, but it also serves as a soul-stirring preparation for a transforming and enlightening journey.
By Bus: You can take a bus to Shirdi from nearby towns or cities. Once you reach Shirdi, you may find local buses or other modes of transportation to take you to the park.
By Train: By train, you can reach the Shirdi Railway Station. From there, you'll need to use local transportation like buses, auto-rickshaws, or cabs to get to the park. Make sure to check the train schedules and plan accordingly.
By Airplane: The Shirdi International Airport is accessible. You will then need to travel to the park using local transportation, such as buses, autorickshaws, or taxis.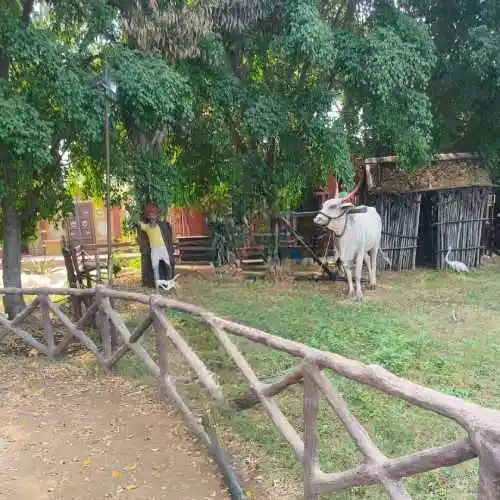 FAQs
What is the Sai Heritage Village opening time?
Sai Heritage Village is open from 8:00 AM to 8:00 PM every day.
How far is the Sai Heritage Village distance from Shirdi?
On the Ahmednagar Highway, Sai Heritage Village is approximately 3 kilometers from Shirdi's main Sai Baba Temple.
Read This Also: