Jamali Kamali Mosque
Jamali Kamali Mosque is a beautifully designed historical monument. It has two monuments namely mosque and tomb.
In the mosque, you will find the eye-catching verses on the walls. It is breathtaking and gives a fantastic architectural brilliance to the Mughal Period.
Inside the mosque, you will see a prayer hall. The exterior of the mosque gets designed with the blue colour beautiful tiles, and these get covered with beautiful poetries that are written by Saint Jamali himself. It is one of the pure, fair and peaceful sights to be visited in New Delhi.
There are many things to do in the historical place of Jamali and Kamali.
Like when you once finished the visit to the mosque, then you can hang out with your family in the Archaeological Park which is not only huge but is also filled with many historical monuments and with lush greens as well.
When you visit outside the mosque there, you will find many other tombs where even you can go.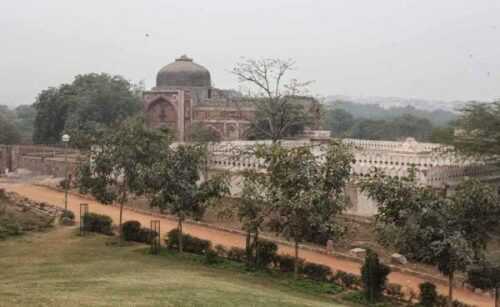 Jamali Kamali Timings
There are two adjacent monuments found in Jamali and Kamali. Moreover, these are the mosque and tomb.
The mosque gets placed in an enclosed garden. Furthermore, the tomb and mosque are maintained and protected by ASI which is the Archaeological Survey Of India.
The mosque of Jamali and Kamali is open from 10 a.m. to 6 p.m. Tourists can visit the mosque and tomb of Jamali Kamali on all the days. It usually takes an hour to reach this place.
Moreover, entry is free of charge, and even photography is also free of cost. However, it has got found that most of the people visit almost around 11 am.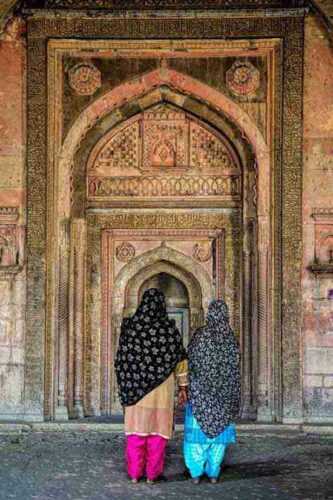 Moreover, the most common or famous time to visit this site is around 11 a.m. to 12 p.m. This site gets not as much crowded.
It is because there are some haunted stories related to this mosque that are very popular.
Moreover, due to this haunted stories, the prayers on Friday are prohibited within the mosque. Even the assembly gatherings are also not allowed inside the Mosque.
It is basically because of the protections of the beautifully built monument and also for its security as well.
Due to this reason, this place is somewhat not so favourite, and that is why not so crowd gets seen in this area.
Moth Ki Masjid
Jamali Kamali Mosque and tomb which shares a boundary with Qutub Minar gets situated in the Archaeological Village complex in Mehrauli, Delhi. It has two monuments which are adjacent to each other.
One statue in this is the mosque, and the other is the tomb of two people of the names Jamali and Kamali. The tomb and mosque which are present in this site get together named as Jamali Kamali.
The Jamali Kamali Mosque is positioned in an enclosed garden area. It gets built with red sandstone along with the white marble.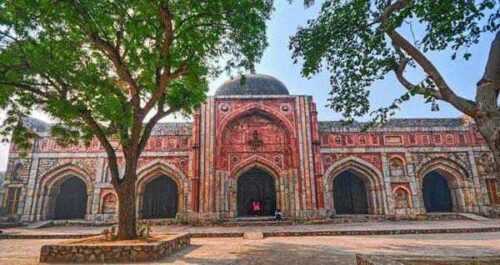 There is a single central dome present in the mosque and is elaborately complex which gets accompanied with stucco work that depicts a combination of the architectural styles of Moth Ki Masjid and also Sher Shah Mosque.
However, no one knows why Jamali Kamali Mosque and tomb gets called as Moth Ki Masjid, but there are some legends behind this reason.
One of the main story behind it that Sultan Sikander Lodi who had ruled from 1489 AD to 1517 AD, had found a grain of lentil when he was walking with his prime minister name Wazir Miya Bhoiya.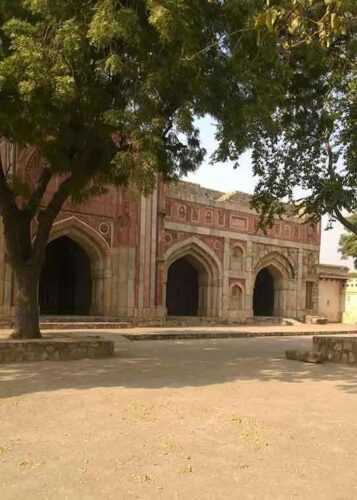 It gets considered as the most magnificent Mughal architectural style which has introduced something new that gets not found in the other earliest monuments.
There you will see the eye-catching poetry that gets inscribed on the walls. Moreover, it enhances the purity and also the purity of the mosque.
Furthermore, these verses get composed by the Sufi saint Jamali himself. Additionally, the architectural brilliance that is portrayed by this mosque can get significantly found in the early Mughal period.
Jamali Kamali Haunted Story
There is a famous and supreme history attached to the Jamali Kamali Mosque and Tomb. But unfortunately, the glory of its history has now forgotten in the emergence of its haunted story.
This site has many unexplainable phenomena of the past, many stories of the white visions, some strange sounds, and also some unnatural feeling that someone is standing behind you.
And all these things are responsible that is faking the glorious history of the Jamali Kamali behind its mysterious ghost stories.
And there is not only one haunted story present rather there are numerous haunted stories about Jinns and ghosts that are found within Jamali Kamali.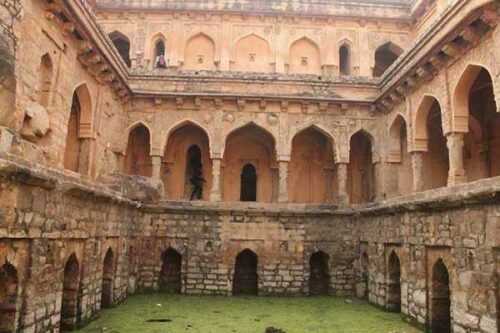 Generally, there are many people who had complained that they had experienced, white shadow, sightings of lights, the growling of animals, apparitions, and an unpleasant feeling that someone else is standing next to you.
Many people also had claimed that they had felt a slap from an invisible force. Sometimes, it appears as someone is going behind a pillar but actually there is nothing like this. Many people have heard the loud voices of laughing which are very scary.
There are many more haunted stories of this place which sometimes scare many ones who visit this place.
However, the purity of this site is still the same which could not be replenished by these haunted stories easily.
Jamali Kamali Nearest Metro Station
Qutub Minar metro station on the yellow line of a map is the nearest metro station to Jamali Kamali Mosque and Tomb.
For reaching the site, there are auto rickshaws available. From there you can easily hire an auto rickshaw that would help you to reach the site.
However, there is also one more metro station, other than Qutub Minor metro station, available to reach Jamali Kamali and that is Chatarpur Metro Station.
Generally, the distance of the Jamali Kamali Masjid and Tomb from Chatarpur Metro Station is 1.9 kilometre and from that of the Qutub Minar, the metro station is 0.7 kilometre.
However, it is easy to reach Jamali Kamali Mosque which is Mehrauli, Delhi. There are numerous options also which you can opt according to your convenience to reach this place.
There is the nearest airport, Indira Gandhi International airport, which is approximately 15 kilometres away from the Jamali Kamali Mosque. Moreover, if you are travelling in a car, then it will take hardly an hour to reach this place.
Jamali Kamali Ghost
There are many haunted stories that are found to listen in Jamali Kamali Mosque. Like people have seen the sightings of light, they had felt that someone is breathing around their necks, had listened to the sounds of laughing loudly, animals growling, and many more.
Sometimes people have felt that they have a white shadow, and sometimes that they had felt that someone was standing right next to them.
And when this all situations were asked to a security guard then he had claimed that he had not seen any uncanny activity ever.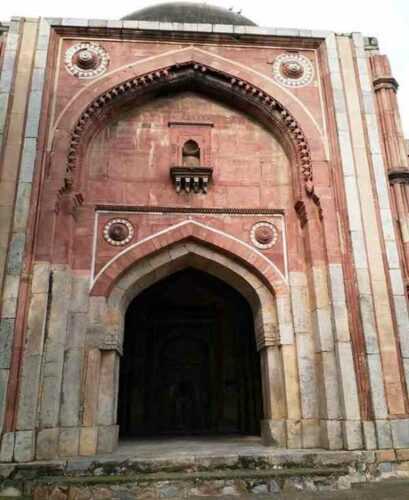 The security guard had told that many times, he is on duty in the day as well as for the night but he had never found any paranormal situation.
Even he had stated that people had made all this tale stories just to have entertainment and nothing else.
But if these uncanny activities or scary stories are true or not can be known only when you visit this place.
It might be possible that people had made this tale stories to have fun or entertainment but it might be also possible that all these stories are absolutely true.
However, due to this haunted stories, staircases of Jamali Kamali Mosque have been locked down.
Moreover, even due to this reason, the mosque is not able to get much attention as it deserves. Furthermore, when it gets much attention, it might be for the wrong reason.
Thus, these were some fantastic facts about the Jamali Kamali Mosque and Tomb. Moreover, due to these excellent reasons, this place is worth to explore the history which involves the archaeological styles.
Furthermore, the more deep information about this simple place can only get taken by visiting this site.
Are you looking to book your next trip? Check out the following services we use and love or click the previous link to read more!
Booking To find best hotel deals.
Best International Flight Deals to Book in 2019.
World Nomads to ensure your trip.
Hostelworld to find a budget hostel.
Jetradar book Flight at cheap price.
GetyourGuide Guided Tours.