Hashima Island
Hashima Island comprises of a complex history. But one thing is abundantly clear when humans leave something untouched; buildings crumble and nature finds a way to flourish.
This is what happened at a place that is nine miles from the city of Nagasaki. An abandoned island that sits with free of inhabitants yet precipitous in history.
Hashima Island was once a Mecca for undersea coal mining. This island was a sharp depiction of Japan's swift industrialization. This island is also known as Gunkanjima which means battleship Island.
It was named so due to its resemblance to a Japanese battleship. Hashima was used as a coal facility provider from 1887 to 1974.
As the depletion of the coal reserves started and petroleum started to replace coal, the mines were closed down and the people had to leave. After all this, Hashima Island was left abandoned and ignored for about three decades.
Yet, just as abandoned concrete walls started to crumble. Flora started to flourish in this place.
As a result, this dilapidated island got all the required attention of those who were interested in the undisturbed historic ruins.
Hashima Island's Past
Throughout World War II, the history of this island is darker just like Japanese wartime mobilization policies that were utilized by Korean civilians and Chinese prisoners who became forced labourers after the war.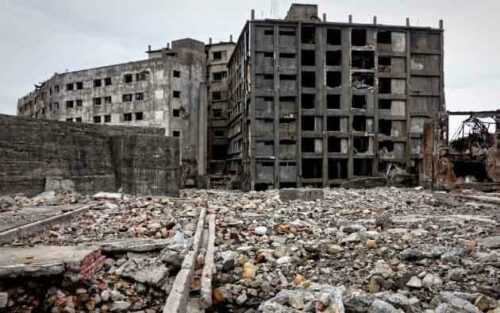 These labourers were then made to work under extreme conditions. It is even said that an estimated over 1,000 workers died on this island during mid of the 1930s.
It was then marked as an end of the war due to unsafe working conditions, exhaustion and malnutrition.
Since this place became a tourist spot, this island was called under United Nations Educational, Scientific and Cultural Organisation (UNESCO) as one of the World Heritage Historical Site in 2015. Various groups of visitors could be taken on tours.
Regardless of the public's infatuation, the legacy of this island's remains a mystery.
It's still unsure that whether the focal point of the island should rotate around its part for remembering Japan's industrial revolution or as a part of the memory of the forced labourers who had to suffer through excruciating circumstances.
Touring the Island
There were days when a fishing vessel was hired to drop people off at the island, these days are now long gone.
In order to reach Hashima, one must now join the organized tours that run at various times in a day.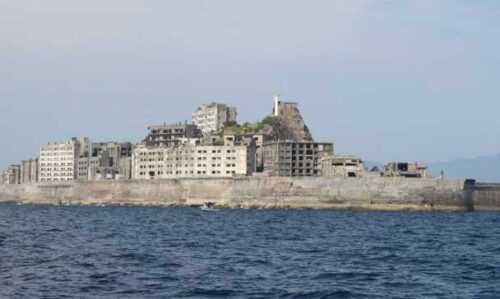 It takes about 30 minutes for the boat to get to this island from Nagasaki. After stepping out of the boat it is like entering a dystopian world of sci-fi usually seen in movies or video games.
You can see gigantic twisted girders, crumbled structures of bricks, and shrubbery claiming back the spaces in which an entire community once flourished.
These organized tours take visitors along a set path along the elevated walkways.
The walkways pass near various surrounding best sites. People who like independent exploring will find this guided tour disappointing.
But, these guided tours are necessary for protecting the tourists from collapsing buildings.
You must know that this place has various iconic images like unique X-shaped staircases. This island tour comprises of a number of key features about the island.
Everything from the entrance leading to one of the mine shafts and few ruined and concrete apartment buildings. You can find plenty of great photo opportunities throughout too.
The tour guides provide some interesting insights into the historic lifestyle and conditions on the island of its former residents.
Plan Your Visit
Talking about the Nagasaki, it is the closest city to Hashima which is also linked with some major Japanese hubs by air, rail from Fukuoka.
Various tour companies help to take groups to the island from Nagasaki. One of which is Gunkanjima Concierge, these organize for multilingual tour guides.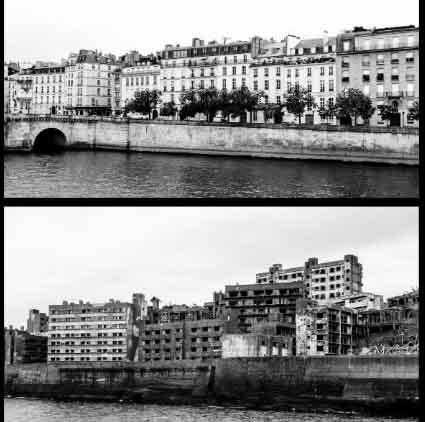 You will come across guides that will be most of the time speaking Japanese on the way out.
Make it a point to ensure that you have taken sunscreen and some snacks or beverages.
This tour also provides loaner sun hats that are one good idea.
This is because there is no shade and the sun can be harsh and harmful for the skin.
One very necessary thing that you must take a not of is that there are no bathrooms on this island.
Industrial Rise and Fall of Hashima Island
While in the early 1800s, coal was first located on the 16-acre island.
During an attempt to catch up with western colonial powers, Japan started on a phase of rapid industrial development that got started in the mid of 1800s. Then it was utilized by Hashima Island for the trial.
After when Mitsubishi acquired the island in 1890, seawalls was developed consequently developed and started extracting coal as Japan's first main undersea coal exploitation.
Then in 1916, a seven-floor apartment block which was Japan's first large reinforced concrete building was constructed for the miners. This was done for the protection against typhoon damage.
Even sturdy concrete was recycled to create various structures like a school, apartment complexes and a hospital. It was done solely for growing the community.
After some time a renewed interest In Hashima Island was seen amongst people.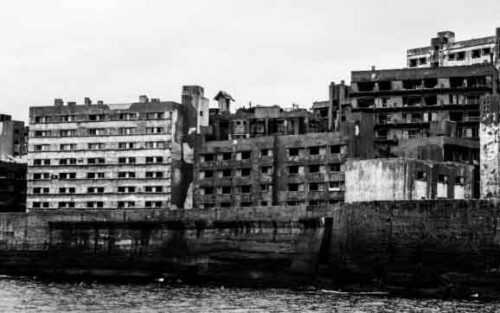 As we all know Mitsubishi was maintaining the ownership of the island even when the population of this place dropped to zero. Later in 2002, this place was transferred to Takashima Town.
In 2005 this town was absorbed by the city of Nagasaki. A lot has already been enclosed with the history behind the seawalls of Hashima Island. It comprises of a lot of things like complex, rich, devastating.
There is one thing that is very clear, the Japanese enclave is surely a testament on how in an abandoned area, nature and industry find their way to interact.
I hope people who were looking for the history and the current situations of this island were able to find their answers in this article.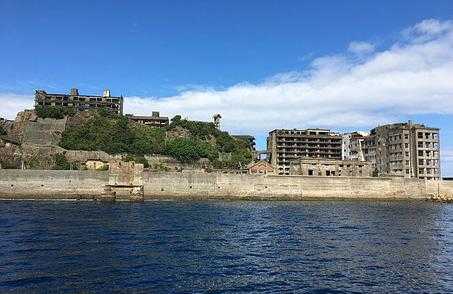 Do let me know about how you feel about this article and don't forget to include any query that you still have. Thanks for coming this far and reading!
Are you looking to book your next trip? Check out the following services we use and love or click the previous link to read more!
Booking To find best hotel deals.
Best International Flight Deals to Book in 2019.
World Nomads to ensure your trip.
Hostelworld to find a budget hostel.
Jetradar book Flight at cheap price.
GetyourGuide Guided Tours.