Brazil, the charm of South America, is a unique tourist destination holding endless worth visiting exotic places in Brazil. From Rio de Janeiro, Florianópolis, and Minas Gerais to Estrada Real and Fernando de Noronha, every tourist destination is worth drooling over.
Brazil is the largest country in America, covering an area of 8.5 million square meters. Moreover, it's the fifth largest country and the seventh most populous one, with a vast population of 217 million people.
It's world-famous for its rainforests, stunning beaches, and diverse culture-holding cities. This article covers all you should know about travelling in Brazil and the famous places in Brazil that you should not skip if you are Travel planning there. Dive in to explore more!
5 Most Beautiful Places in Brazil
Visiting Brazil and wondering what to explore and what are the best places to visit and things to do in Brazil? Hop on below to get to know!
Rio de Janeiro
Rio de Janeiro is an alluring seaside city in Brazil. On visiting this one of the famous places in Brazil, you must not skip spending time unwinding at the shores of Ipanema and Copacabana. Besides this, this city has lots more to offer too.
You can hook yourself in exploring the natural beauty of Sugar Loaf and Tijuca National Park and uncovering the charm of neighbourhoods like Lapa and Santa Teresa to closely examine what living in Brazil is like.
Tijuca National Park, the largest urban rainforest on the planet, covers an area of around 8300 acres. It boasts a variety of waterfalls and terrains, over 350 different mammals, reptiles, birds, amphibian species, and over 1600 plant species. Tourists love hiking here, and this park is most common for picnics.
The famous neighbourhood, Lapa, is home to music clubs, traditional bars, dance halls, and open-air samba jams. Yes, folks, you got it right; its nightlife scene is on the next level as locals love to dance to the beat while sipping on cocktails.
Florianópolis
Because of its endless charm, Florianópolis is best known as "the Magic Island". As the name suggests, this Brazilian city is the dream destination for those who love spending time at the seaside and hopping on to fascinating tourist destinations.
Florianópolis is home to 42 beaches, with Joaquina and Praia Mole, Campeche, and Lagoinha do Leste being the most popular. Whether you like walking around the beach or lying back for a sunbath, you will have a memorable time at these beaches.
Another favourite tourist activity on tour to Florianópolis is hiking Lagoinha do Leste. The stunning panorama vistas, breathtaking landscapes, and beautiful waterfalls and cliffs make this hike unforgettable.
It's not always necessary to go behind the charm of top tourist attractions; sometimes, pleasure lies in getting lost in the street life, wandering from one street to another, and exploring local markets. Don't forget to try out the city's famous, Açai.
Minas Gerais
Minas Gerais is a fascinating landlocked Brazilian state known for its historic colonial-era towns and delish homemade comfort food. Here are some towns you should not skip visiting when visiting Minas Gerais.
Tiradentes features historic cobbled streets and terracotta roofs. This versatile town has something to offer to everyone. From wandering around in a horse-drawn wagon to marvelling at the churches and riding a steam train, you can indulge in many of the best things in Brazil here.
Lavras Novas is another hoard of must-visit tourist attractions; Church of Our Lady of Joy, Praca Tiradentes, and more. These are the embodiment of the architectural splendour this town holds.
Monte Verde is another charming town and one of the famous places in Brazil as a romantic destination in the middle of the mountains. It boasts several hiking trails to provide tourists and locals with a fantastic hiking experience and is also home to countless fine restaurants serving the best of native cuisine.
Brasília
How can one skip Brasília, the capital of Brazil? It's undoubtedly one of the most famous places to visit in Brazil, worldly known for its modern architecture. It is a planned city, chiefly designed by the utterly famous and talented Oscar Niemeyer.
The main attraction in the city is its National Congress, a landmark as old as the city itself. It's a complex of two buildings with a flat-based structure and is home to the federal senate and parliamentarians' offices. You can enjoy exploring the interior of this architectural landmark for free.
Centro Cultural Banco do Brasil, Parque Municipal do Itiquira, and National Theater Cláudio Santoro is other attractions you should surely visit on your tour of Brazil.
Belo Horizonte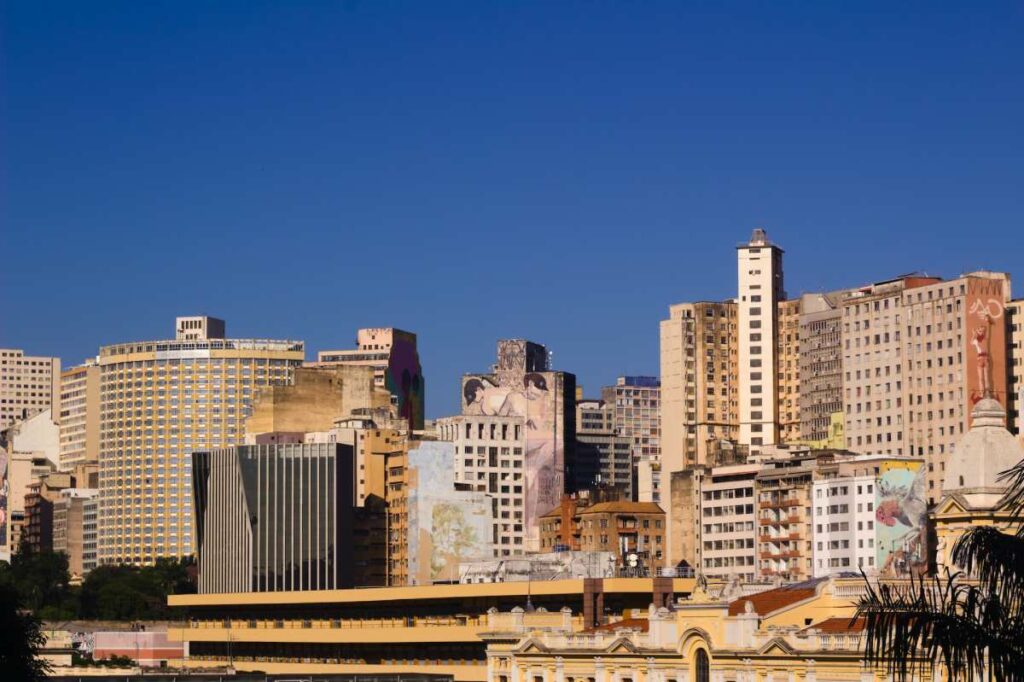 Where are the art enthusiast travellers? We have got a fantastic destination for you! The Belo Horizonte! The spacious Mineirão Stadium is the main attraction in the city. Football fans immensely value this big stadium as it has hosted the 2013 and 2014's FIFA Confederations Cup and World Cup, respectively.
Don't miss the chance to witness the Feira de Arte e Artesanato, held every Sunday in the heart of the Belo Horizonte. Many stalls are set up during this fair which sell many things, including clothes, jewels, and more. You will surely enjoy wandering around and shopping for goods.
Parque Municipal is a tranquil haven, a must-stop for unwinding in the lap of nature. Located in the buzzing city centre, this park also hosts public concerts in the summer.
On visiting this park, check out the neighbouring Palacio das Artes. An exhibition is always going on there. Lourdes, Savassi, and Pampulha are other destinations that you should pay a visit to.
Wrapping Up
This article has wholly described 5 of the most famous places to visit in Brazil. If you are in Brazil or planning to stay there, this "best things to do in Brazil" list, featuring the most beautiful places in Brazil, will surely help.
Are you planning to visit Brazil? Plan your visit with Journey Connected and take your experience to the next level! They will help you live your dream moments in affordable packages.
Author William: William loves writing travel articles for Journey Connected. Since 2016, he's been contributing and working with Journey Connected. As a Vacation Planner, William loves planning trips worldwide, especially for the Middle East and Africa.
Also Read:
4 Ways To Prepare For An Unforgettable Adventure In Brazil
The Mysterious Snake Island (Ilha da Queimada Grande) in Brazil