Craigdarroch Castle in Victoria is a Scottish baronial-style mansion in British Columbia, Canada. Owing to its landmark status in Victoria, it was labeled as a National Historic Site of Canada.
Craigdarroch Castle History
Craigdarroch Castle in Victoria is over 2,300 m and comprises 39 rooms. It was built in the 1800s for a wealthy family, coal industrialist Robert Dunsmuir and his wife, Joan.
However, Robert died 17 months before construction on the Craigdarroch castle finished. Warren Heywood Williams, the first architect of the castle, was also deceased before the castle's finalization.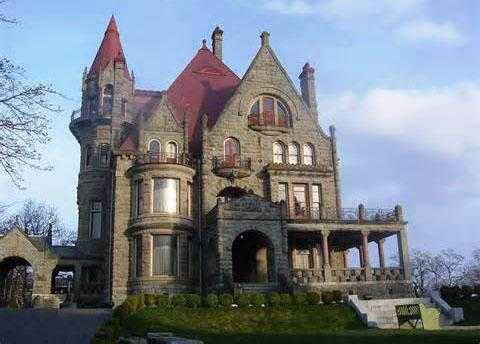 His sons James and Alexander decided to finish the castle after his father's death. When the architect died, his work came under the control of his partner, Arthur L. Smith, in 1890.
James Dunsmuir was also appointed to construct Victoria's second castle, Hatley Castle, in Colwood, British Columbia.
The castle's construction is believed to have cost around $500,000 and consists of granite from British Columbia, tiles from San Francisco, and an oak staircase manufactured in Chicago.
When initially constructed, Craigdarroch in Victoria was situated on 28 acres of formal gardens.
After Joan Dunsmuir's death, his daughter sold the Craigdarroch Castle in Victoria to land investor Griffith Hughes for $38,000, who split the property into building sets.
To increase sales for the duration of a slow real estate market, Hughes proclaimed that the Craigdarroch Castle in Victoria would be a lottery theme, to be won by one of the residential parcels' buyers imprinted from the property.
Soloman Cameron, who won the castle, mortgaged the manor to fund other speculative gambling, which bombed them, leaving him destitute. In 1919 the ownership of the castle was transferred to one of Solomon's creditors.
About the Dunsmuir Family of Craigdarroch Castle in Victoria
Robert Dunsmuir's death brought trouble to the family. Unlike his oral promises to his sons, he left his whole property and business assets to his wife.
This disappointed Alex and James since they worked for their family business.
It took seven years to agree with their mother, Joan, to give them the title to the San Francisco Company.
It took another three years to agree with their terms to buy the Wellington Colliery.
With this, Alex felt financially secure enough to marry his love, Josephine, a divorcee.
He lived with her for almost 20 years as a husband and wife. However, their marriage lasted only six weeks; Alex died on their honeymoon in New York.
After his death, the family was divided due to arguments over Alex's will.
The conflict concluded with a legal case that reached the Judicial Committee of the Privy Council in London (it was equivalent to the Supreme Court of Canada in those days.)
James was the chief of British Columbia at that time, and when he sued his mother, the news was all over the place. Consequently, Joan and James didn't speak for several years.
Joan passed away in 1908 in Craigdarroch Castle in Victoria, where she lived for 18 years. It was believed that James wouldn't attend her funeral. However, he did, at last.
Craigdarroch Castle's regular life continued until 1970 before the Craigdarroch Castle Historical Museum Society took up the baton.
Craigdarroch Castle in Victoria was renovated significantly by the federal DSCR (Department of Soldiers Civil Re-establishment) before inaugurating as a military hospital in 1919.
The kitchen was replenished, and the walls were rearranged on every floor. A new bathroom & hydrotherapy, along with new sinks, were mounted.
The 4-story Craigdarroch castle in Victoria still owns rich furnishings from the 1890s and is famous for its stained glass and sophisticated woodwork.
The Craigdarroch Castle historical museum society holds the castle at present.
It is a private non-profit community and is open to the public. The Craigdarroch Castle in Victoria is a tourist attraction that lures 150,000 visitors every year.
Craigdarroch Castle Haunted
Craigdarroch castle ghost stories are presumed to be connected with the Dunsmuir family. People have encountered a specific ghost frequently, which they believed to be Joan Dunsmuir.
They have seen his specter walking down the main stairs in a ball gown. And the most unusual thing about this ghost is that no one has ever seen her in any other part of the castle or going up the stairs!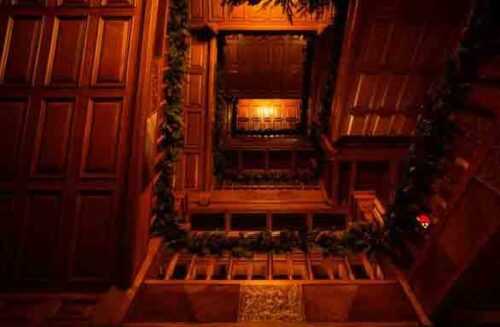 The basement of the castle is supposedly haunted, as well. It is assumed to be haunted by a young girl, and some say that she is the second daughter of Robert Dunsmuir; she died soon after Robert.
Her specter has been seen standing in the cellar, glaring at the floor. However, she doesn't stay long; soon after someone enters, she fades away.
Other paranormal events consist of a sudden drop in the temperature and the scent of candle wax from above, albeit none could find the cause.
Others have heard the ghostly crying sound of a child, objects moving independently, and a piano coming from the dining room when no one's present. And most importantly, there isn't any piano inside the castle!
Haunted Victoria Tour
Besides Craigdarroch Castle in Victoria, you could also go for the haunted Victoria tour and learn about the mysterious past of Victoria.
An expert guide would walk you through all the spine-chilling stories in this joint walking and bus tour.
You'd know more about the hanging judge, who gained his unsavory reputation for consistently executing the death sentence.
And as you walk through the city, the guide will share stories of all the paranormal events and the city's alleged hauntings.
Craigdarroch Castle in Victoria Tickets Price Detail
You need to know Craigdarroch Castle is a historical museum; per se, there are no elevators, wheelchair accessibility, or ramps.
Ticket details:
Adults: $14.60
Senior Adults: $13.60
Student (with valid ID): $9.50
Children (6-12 years): $5.10
Family: $36.00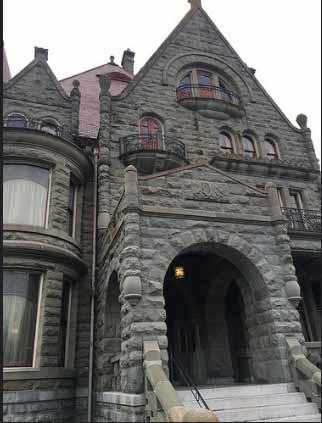 Historic house museum- Craigdarroch castle
Craigdarroch Castle is a historic house museum in Victoria, British Columbia, Canada. The castle is located on a hill above downtown Victoria and was built by Robert Dunsmuir, a wealthy coal baron and former mayor of Victoria. Craigdarroch Castle was designated a national historic site of Canada in 1992.
The castle welcomes visitors for tours throughout the year-round and features Victorian-era furnishings and architecture. The castle also has a gift shop and a café.
Craigdarroch Castle was built between 1887 and 1890 and was designed by architect Robert Pim Butters.
The castle is constructed in the Scottish Baronial architectural style and features four towers, turrets, gables, and a porte-cochere.
The castle is made of granite from Vancouver Island and costs $1.5 million to build. It was the most expensive home in Canada when it was built.
Robert Dunsmuir died in 1889 before the castle was completed. His wife, Joan Dunsmuir, lived in the castle until she died in 1908.
The castle was inherited by the Dunsmuir family's youngest son, James Dunsmuir. James Dunsmuir sold the castle to the City of Victoria in 1911 for $50,000. The City of Victoria operated Craigdarroch Castle as a historic house museum until 1980, when a non-profit society took over.
After the tour of Craigdarroch Castle, the trip may shock you, and maybe you also want to do something interesting and meaningful for your trip. That's great! You can customize the travel commemorative lapel pins at Custompins.ca, which can turn the castle into a castle lapel pin.
It not only can memory your trip and also can be used for decorating your items. When you are wondering how to get this kind of lapel pins in Canada, Custompins.ca will give you great help. In fact, Customized lapel pins Canada is not a difficult thing, you can submit your idea to Custompins.ca, a professional lapel pin maker, who can achieve your ideas into a variety of customized pins
You only need to wait for your exquisite castle lapel pins at home. What's more, you can send them to your friends as your trip gifts because people like to share their trip commemorative gifts with friends to enjoy the beautiful travel time.
Most Essential Items carry for Craigdarroch Castle trip.
FAQs
Craigdarroch Castle Price
Here is the castle entrance price: Adults: $20.60, Children: $10.00, Seniors: $19.60 & Students:$14.80.
Craigdarroch Castle tickets
To book the tickets click here
Craigdarroch Castle hours
MON Closed
TUE: Closed
WED: From 10 am to 4 pm
THUR: From 10 am to 4 pm
FRI: From 10 am to 4 pm
SAT: From 10 am to 4 pm
SUN: From 10 am to 4 pm
What movies are being filmed in Craigdarroch Castle?
Craigdarroch Castle movies are:-
Little Women (1994)
The Boy (2016)
Cats & Dogs (2001)
The Doctor's Case (2018)
British Columbia: An Untold History (2021)
Is Craigdarroch Castle available for a wedding?
Yes, Craigdarroch is good for a wedding venue. Craigdarroch Castle wedding can be unique & attractive.
Read Also: