Hitch racks, roof racks, axle mounts, trunk racks & tailgate pads are some of the most popular options to transport your bike in a pickup truck.
Whether you are taking part in an off-road cycling event or cruising a local trail, you need to travel some distances to get there. The best way to carry your bike to the preferred spot would be to haul it over your sedan, truck, or SUV.
But to do so, you need to consider a few facts first. Suppose you don't want to turn your transporting incident into an expensive nightmare and need to assure the safety of the bikes. Without securely fastening your cycle, your unsecured bike becomes a potential threat to you, the passengers, or even the bystanders.
Therefore, the ways mentioned below can be helpful to safely transport your cycle from one place to another.
Easily Carry Your Bike

1. Tailgate Pads
Tailgate pads are by far the easiest & most popular option for transporting Bikes. Nowadays, more bikers are moving towards tailgate pads for their various uses.
The best tailgate pad should be durable and easy to install. It also takes only 20-30 seconds to load your cycle & get going. All you need to do is throw the pad over the tailgate & strap it.
It keeps the bike secure. You won't need any other additional equipment to make it work perfectly. It is the fastest way to load & unload your bike and keep it safe.
However, the main downfall of these pads is that you need a pickup truck. If you don't have one, it is not for you. Also, sometimes, tailgate pads may rub the paint off of the tube. So be careful about that.
2. Hitch Racks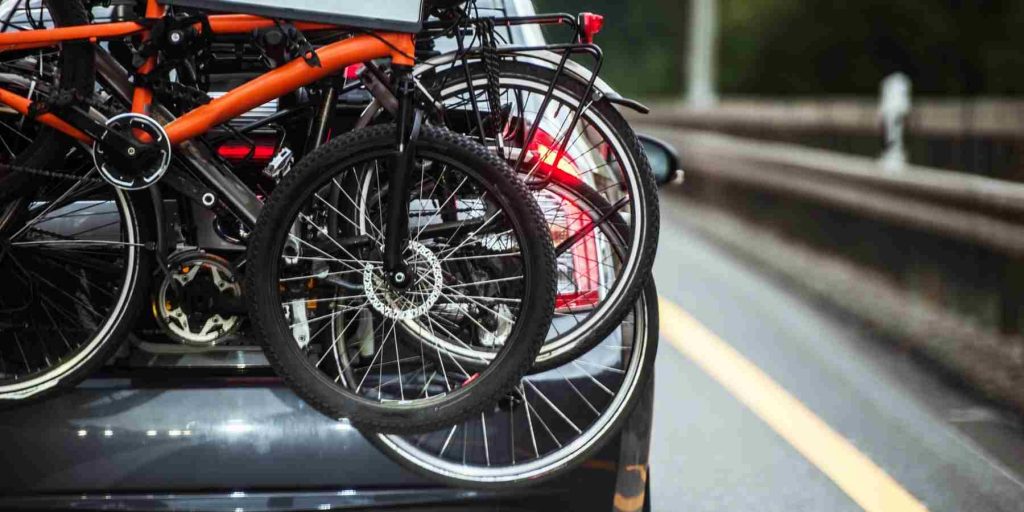 Hitch racks are the most popular ways to transport bikes on the back of your truck. These days, most trucks have tow hitches. And it makes carrying objects around easy. Also, loading & unloading from these tow hitches are hassle-free.
Hitch racks offer the benefits of securing the cycle without moving any part of it. You can secure the bikes with wheels on & don't need to worry about re-assembling. Moreover, it is easily accessible & cheap.
However, hitch racks have some issues too. With the extended length of these racks, the overall size of your truck will be wider and longer. You will face maneuverability problems in tight spaces. Also, you may have to face trouble while parking. Hitch racks can also make your bikes vulnerable to rear-end accidents.
3. Roof Racks
Roof-type racks are another popular method of transporting bikes. If you don't have trucks or SUVs, roof racks are the best option. The installation is somewhat more manageable than the hitch racks. All you need is a car with existing bars, and then you have to attach bike trays. Finally, you can tighten the wheels of the bikes with the arms of the tray.
Roof racks offer some unique benefits. First, you don't need to worry about the extended length of your truck anymore. Stealing bikes is almost impossible in this type of transportation. Furthermore, you can use the bars or trays as cargo.
However, there are some cons to roof racks too. Loading & unloading bikes are pretty arduous if you are not a tall guy. There is a good chance of harming your vehicle's paint if you aren't cautious.
Due to clamping your bike vertically on the roof, the vehicle will consume more fuel. Also, the gas mileage will decrease because of the added weights. So, that's a concern. Again, parking will be frustrating in multi-level or low overhead garages.
4. Axle Mounts
Axle mounts are not that much popular for transporting bikes to your desired trailhead. However, these can be an excellent option if you don't want to spend too much on racks or maintenance.
All you need is just two holes in the back bed of your truck. Even if you don't have holes, you can always drill one. Some may argue about drilling holes in the back bed of the truck but then, you can drill axle mounts anywhere. You have the freedom to choose where you want to mount. For clamping, you need to remove the front wheel & axle.
The main benefits of axle mounts are low price, ease of accessibility, and sturdiness in the safety of your bikes, etc.
However, it has some cons as well. If you clamp your bikes somewhere else other than the back bed, loading & unloading can be tricky. Those sensitive to their vehicle & paint won't like the idea of drilling holes in their trucks. Also, it's possible to forget about the front wheels often.
5. Trunk Racks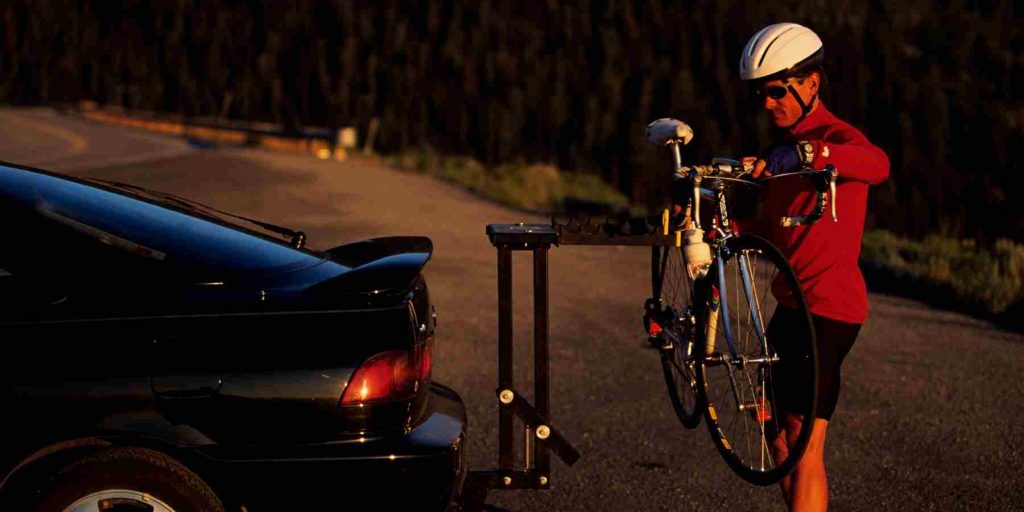 Trunk racks are another decent category of racks. These racks are almost similar to the hitch racks. However, the only difference is that you don't need an extended back for this. Any sized cars can use these mounting types for transporting their bikes.
Truck racks come with better straps & pads. Hence, you get more protection & can avoid damaging your vehicle. Truck racks go with all kinds of vehicles. That said, you don't need to hesitate about the odd look of your truck with mounted bikes because trunk racks fit well.
Some added benefits of trunk racks are that you won't lose MPG anymore, unlike roof racks. Loading & unloading is relatively easy, as you don't need to worry about the extra height of mounting. It is convenient, accessible & cheap.
However, truck racks possess some threats too. It comes with two-prolonged bars. So, if you have a carbon-framed bike, you will most likely get spots in places because of excessive pressure.
Dropper seat posts will wear out of your bikes. Total protection is not guaranteed here. Also, to get the most out of these racks, you need to install extra accessories that will cost more than your initial price.
Final Thoughts
If transporting bikes is a regular task then getting a good quality truck bed rack is important. Keep in mind that an unsecured cycle is easy to steal. On top of that, in a collision, these unsecured bikes possess significant threats of injuring you, your friends, or other bystanders.
So, while shopping, choose the right one that matches your vehicle, is easy to install, and keeps your cycles firmly attached.