To fully enjoy hiking in the mountains, admire the extraordinary beauty of mountain landscapes, and not "die" during the whole trip, preparation for the walk plays an important role: physical and psychological.
This article details:
how to prepare for the first hike;
indicative standards for minimum readiness for hiking;
how to train "at home" endurance, muscles of the legs, back, and abs, as well as agility;
If, after reading this article, it seems that we decided to scare you or dissuade you from going on a trip, remember that this is not the case. We want to draw attention to the need for minimal preparation for the complexity of the upcoming hike.
Attention! This article deals only with the basic principles of preparing for hiking in the mountains and does not cover the issues of training for high-altitude ascents, mountaineering training, etc.
Why do you need good physical preparation and psychological readiness for a hike?
Many who want to go on their first hike are fascinated by the incredible landscapes of the mountains that they want to see with their own eyes, inspired by stories and tales of unforgettable hiking adventures.
But behind this picture are hidden challenges you will meet, even in the most straightforward campaign.
6 reasons to be ready to hike
Hiking is an increased burden on the body: good kilometres with a reasonably heavy backpack on your back.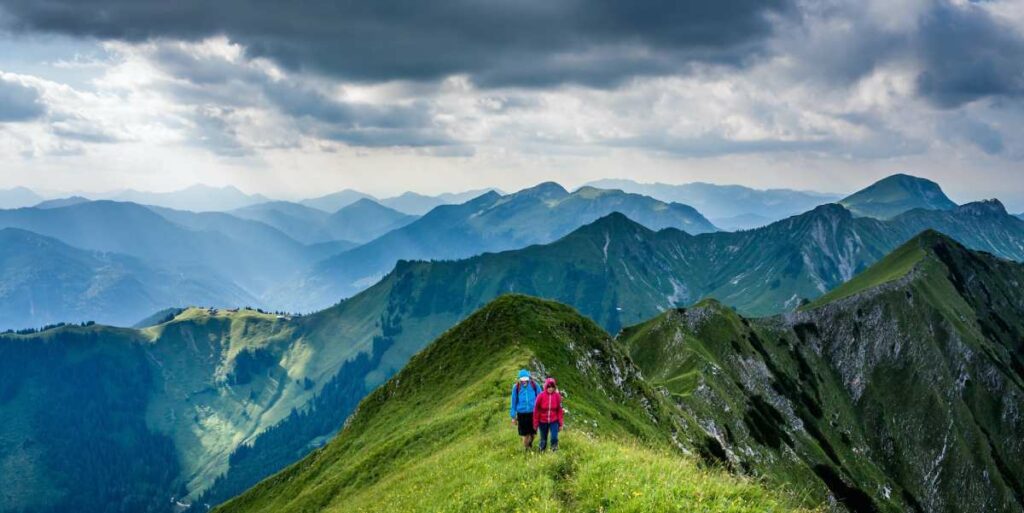 1. Remember the first hike:
We got off the bus right at the foot of a steep slope, put backpacks on our shoulders, and after ten meters, the question sounded in my head: "Is it me who has to walk with such weight for another three days ?!"
2. Injury prevention:
Any hike is a good test for the knees, ankles, ligaments and other body parts. The better our physical readiness, the less we get tired and remain attentive during hiking in the mountains, significantly reducing the possibility of injury. The more trained our muscles, the less the load on the ligamentous apparatus.
3. Readiness for difficult weather situations:
Heavy rain, wind or hail during a hike sometimes increases the difficulty of the walk several times: the hike from an easy one immediately turns into a hike of moderate difficulty or even a difficult one.
In such situations, it is important not to despair and remain optimistic. This is where mental readiness comes into play.
4. Unforeseen additional movements:
No matter how hard we try to think over the route to the smallest detail, various force majeure circumstances adjust. All this leads to the fact that at certain moments it becomes necessary to walk an additional 3-5 kilometres to reach the shelter or accelerate a little to catch the train in time.
All this after an exhausting long transition. That is why you always need a reserve of physical and moral strength to make another breakthrough.
5. Single movement of the group:
During hiking in the mountains, the group's direction should be compact: so that the first person, looking back, can see the trailing one. The poor readiness of even one of the participants leads to a stretching of the group, a broken pace, and a violation of the planned movement schedule.
6. Enjoy the hike:
The better our readiness, the more pleasure we get from travelling. There are also a lot of pleasant moments when you sit on a camping mat and enjoy the nature around you.
Indicators of physical readiness for a hike
Before talking about how to prepare for a hike, some physical standards that will at least approximately help determine your level of readiness.
In any case, only the mountains will objectively assess your physical form.
How to train to prepare for hiking in the mountains
This section is for those who decide to consciously prepare for the campaign.
One month of training, as a rule, is enough to gain the necessary physical shape and go through the whole hike with pleasure.
We often repeat that the level of preparation for any, even the most straightforward hike, should be at 150% of what is necessary. And this applies to both equipment and the physical component.
Mountains do not forgive a frivolous attitude towards them.
Types of loads on a hike
The hike provides for the need to maintain the required level of performance for a long time, in simple terms, resilience. Hiking in the mountains is constant ups and downs, which cause a significant load on the legs: the thigh and calf muscles are actively working.
At the same time, we do not forget that we have a backpack on our shoulders, the weight of which is from 10 to 20 kilograms. The core muscles are actively involved in the work and are responsible for stabilizing the pelvis, hips and spine.
Endurance training
The best endurance exercise is running. In addition, it is beneficial, and after the first month of training, it is also enjoyable.
Agility and coordination training
In addition to training endurance and the muscles of our body, agility and coordination play an essential role in the campaign, especially when you need to move on rocky terrain.
Indicative in this regard is the second day of the hike through the Eastern Gorgans when for five kilometres with heavy backpacks on your back, you have to balance on huge boulders, jumping from one to another.
For agility training, a regular curb is suitable. During your run, find a good curb for when you need to get over this section while balancing on a narrow surface so as not to fall off it.
Psychological readiness for the trip
No physical preparation will save you in a critical situation if you are not strong in spirit. On hikes, we find ourselves face to face with nature, which sometimes presents severe trials.
Unlike physical fitness, which can be improved even with just one month of training, psychological fitness is more a state of our mind that is not so easy to train.
However, here are a few tips about it:
Don't build expectations on your trip. Do not hope for good weather, that there will be no rain; there will be no unforeseen situations, etc. Just treat hiking in the mountains as an adventure where everything has a place. Let happen what needs to happen. Fewer expectations mean less disappointment.
Mentally set yourself up so that you will have to show all your willpower, perseverance, perseverance and desire for victory in the campaign. You are strong, and you will succeed.
No matter how hard it is, concentrate on the moment "here and now" during the hike. Do not let your mind pester you with the question, "Well, when will we come? How long is left?"
When you've reached the point where your brain is screaming at you, "I can't take it anymore," remember you've only used 40% of your resources.
Also Read:
5 Top Treks in Nepal – The Ultimate Guide to help you to select the best treks for you
Essential Survival Gear for Winter Hiking