People who wear glasses and spend a lot of time in front of the sun often face difficulty protecting their eyes from the sun. However, there are people out there who are seen switching between their prescription sunglasses and glasses. Isn't it tedious?
Prescription sunglasses are the best possible solution for people who have a lot of sun exposure and want to see clearly without compromising their vision. These specially designed sunglasses provide clear vision alongside protection from the sun.
In addition, prescription glasses have a lot of other advantages. This article will explain the functionality and benefits of wearing prescription glasses.
What are prescription sunglasses?
Prescription sunglasses serve the function of both prescription glasses and sunglasses. The lenses will have your specific prescription built in, enabling you to see clearly even on bright sunny days without any problems.
Theyare available in almost all corrective powers, and bifocal and progressive lenses are available for those suffering from presbyopia.
They are necessary for visually impaired people with prolonged sun exposure throughout the day. We have compiled a list of some main benefits of using prescription glasses over ordinary non-prescription glasses.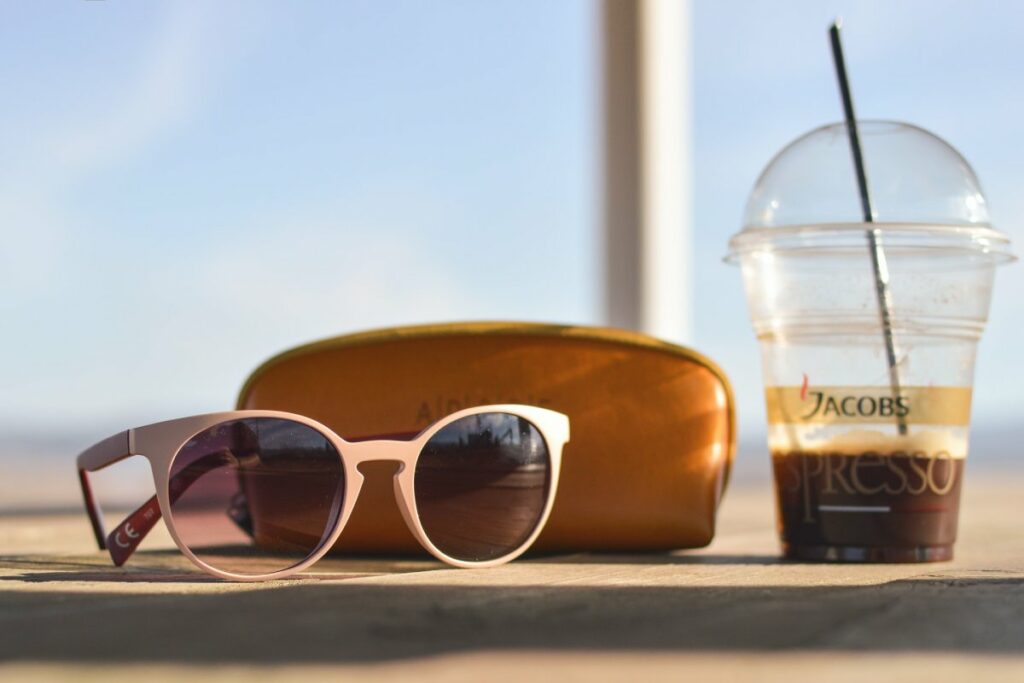 The Advantages of Prescription Sunglasses
Switching between regular sunglasses and prescription glasses can be an annoyance. Opticians and eye care experts designed prescription sunglasses to avoid all this tediousness.
1. Crystal Clear Vision
Prescription sunglasses enable you to view clearly in any light, which is one of their significant benefits. People who suffer from myopia, hyperopia, astigmatism, and presbyopia can see clearly on their vacation.
Irrespective of your eyes' type of refractive error, you can always enjoy clear, crisp vision on hot sunny days.
2. Remove glare
You may have experienced glare when you are traveling, especially during driving. Glare occurs due to the reflection of sun rays, usually from water, snow, or the hood of vehicles.
While driving, glare can be hazardous as it can reduce your vision, causing strain and discomfort. However, you can easily avoid this situation using polarized prescription sunglasses.
3. UV Protection
Sun exposure can increase calcium levels and reduce inflammation, which is essential for humans. However, sun exposure can be dangerous as overtime it can damage your eyes, vision, and skin.
This is mainly due to the presence of harmful ultraviolet rays coming from the sun. Arise Collective Agincourt Polarized is our top pick for protecting your eyes against harmful UV rays.
Prolonged exposure to the sun can affect your eyes from ultraviolet light, which can lead to cataracts, corneal sunburn, eyelid skin cancer, age-related macular degeneration, and other eye problems.
To avoid overexposure to the sun's harmful rays, you can use 100% UV-blocking prescription sunglasses.
4. Personalized Lenses
Quality prescription sunglasses can be personalized, customizing them according to your needs. Your options are unlimited. Some custom options include polycarbonate, anti-scratch, polarized, or photochromic lenses.
Check out the PRADA PR 01OS Conceptual polarized sunglasses if you are looking for the best photochromic and polarized sunglasses.
5. Only One Pair of Sunglasses is Needed
One of the advantages of sunglasses is versatility. You can get both clear vision and sun protection in one frame. Gone are the days of carrying multiple pairs of glasses on vacation.
Are They Worth the Investment?
Considering your eyewear needs can help you decide if prescription sunglasses are right for you. If in doubt, try the following:
Think About Your Lifestyle
If your lifestyle needs a little extra sun protection, consider prescription sunglasses. They are essential if you spend more time outside, drive a lot during the day, or live an active lifestyle.
Contact Your Optician
Your optician can advise you if you are unsure about prescription lenses. In addition to advice, your optician will ask the right questions to determine if sunglasses are the right choice for you.
Talking to an optician can give you a new perspective. They will help you clearly understand new prescription sunglasses and answer any questions or concerns you may have.
Protect Your Eyes Without Compromising Vision
Using prescription sunglasses allows you to enjoy sunny days without worrying about damaging your eyes. No one has to sacrifice clarity of vision to protect their eyes from the sun.
SmartBuyGlasses has a vast collection of designer prescription glasses for your needs. You can pick and order the right pair according to your face shape with the help of their virtual try-on feature.
Also Read:
Essential Survival Gear for Winter Hiking
Smart International Travel Gadgets in 2022