You might be wondering why every time you type in adventure activities in India, Himachal Pradesh always shows up. It's the same as your 'go to' flight booking website popping up every time you type in the word 'ticket'.
Well, it is all for good reasons as this is home to some of the most exhilarating places that are major hot spots for adventure sports and activities, also because the climate and weather are just the perfect degrees of temperature that is ideal for such activities.
If not for the adventure sports and activities, you can also just sit back and enjoy the snow-covered mountains and trees that look like those beautiful snow globes that we all have and love.
It truly is the icing on top of the cake, it's breathtaking, enticing and at the same time gives you the adrenaline rush that you seek.
It's not crazy to want to face danger right in the face or to dare to challenge yourself to do the things that society label as dangerous or life-threatening.
In fact, that's what adventure activities and sports are all about; it challenges the 'fight or flight instinct in you. So here is a comprehensive list of the top ten adventure activities to experience in Himachal.
Rafting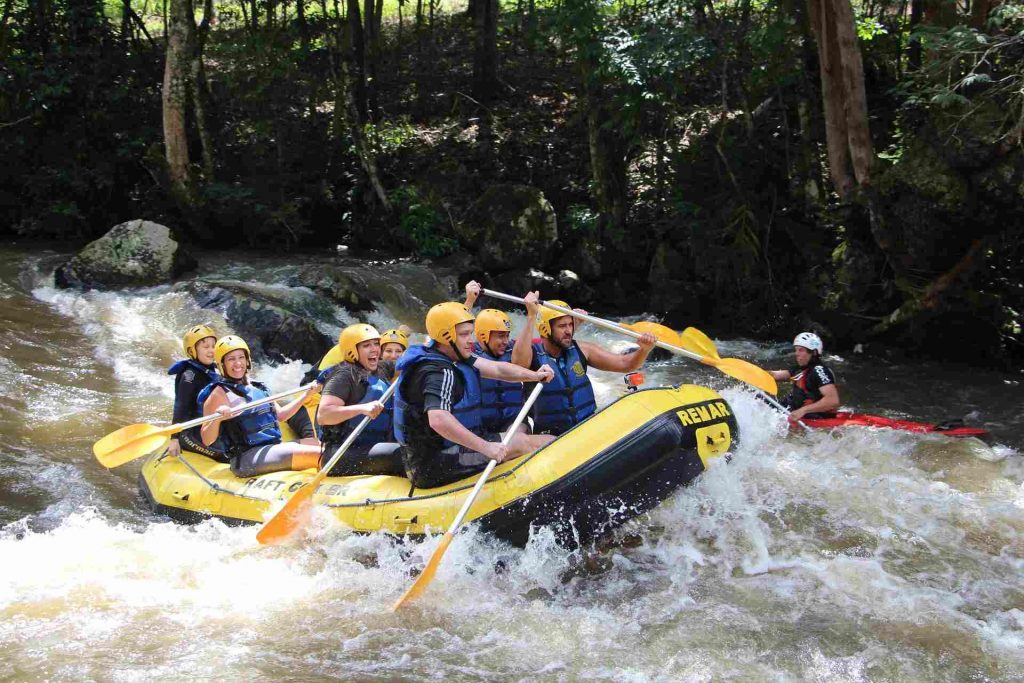 Let's kick start with this particular water sport that will test your ability to work as a team and also test your coordination skills.
Rafting is one of the most popular adventure activities in Himachal that has been attracting thrill-seekers for decades. To experience this, you need to visit the state during the summer months when the glaciers melt and the water travels to merge with the river.
Paragliding
If you don't have a fear of heights then this is an activity you shouldn't miss out on when in Himachal. If you have friends who are adrenaline junkies you can ask them if it's worth it and they will definitely tell you that it will be the experience of a lifetime.
And what makes it even better is that when you are up there, you will get an aerial view of the snow-clad mountains, the plains covered in a layered white carpet, and trees peeping through like cake decorations.
Quad Biking
As the name suggests, this activity includes being seated in a quad bike (a bike with four low-pressure tires). It is a very fun activity that can be enjoyed by two people at a time.
And the terrain of Himachal Pradesh makes it very ideal for this activity. The terrains of Manali, Kullu, Dharamshala, and Shimla are perfect for this adventure sport.
Snowboarding
This is 'The Adventure sport' that is set to give you goosebumps and hike up your heartbeat to the maximum. And since Himachal Pradesh is the mother of some of the best snow-covered slopes in the world, it shouldn't come as a surprise to see snowboarders taking on the snowy terrain.
Camping
If you aren't a fan of extreme adventure activity, then this should be perfect for you. Just give it a thought; being near sparkling lakes and waterfalls, magnificent mountains surrounding you while you set up a tent along the plains, isn't that thought worth experiencing in real life? And Himachal provides just the perfect landscape for that.
Mountain Biking
We all love biking; it is therapeutic, it's a great way to work out and also it lets you escape into a dimension where you are one with your surroundings while letting go of your everyday hectic life.
Now, imagine biking, but along the mountainous landscape of Himachal; biking along with quaint little villages, lakes, waterfalls, valleys, etc.
Be sure to give this activity a try before you leave as it is guaranteed to make your trip or visit a tad bit better and memorable.
River Crossing
If Himachal is on your 'must-visit list, then you must try out the famous river crossing activity. This activity includes a rope connecting two banks and the person has a safety harness that they use to get to the other side.
You will have to use both your hands and your legs to get to the other side while the river gushes underneath you. It is fun and will get you either screaming or laughing.
Ziplining
This activity induces the same feeling that a roller coaster gives you, but instead of alternating between going in loops and being upside down, you just zip down from a mountain while getting glimpses of rich luscious trees and sparkling lakes enough to make your heart beat faster.
And if you enjoy this activity then you are in luck as the highest Zip Line in India is in Manali, a region in Himachal.
Rock Climbing
This is the mother lode of adventure sports. And owing to its many mountains, you can bet that there will be tons of sites that are perfect for rock climbing.
This activity is perfect to test your strength and also challenges you to go that extra mile out of your comfort zone.
Rappelling
Some of the best places to experience this are Manali, Beas Kund, Hanuman Tibba foothills, and Pir Panjal. These are towns in the state of Himachal and this activity includes going down a slope along a rope with the help of a safety harness.
It gives you the same rush that amusement park rides give you; the only difference is you are in charge of the pace.
As mentioned above, these are the top ten adventure activities you can experience in Himachal Pradesh. Some of these might come across as extreme and you do not have to experience it if you don't want to, but if you ever decide to try it out, you are in for the experience of a lifetime.
So make sure to not only check out flight ticket booking portals but also Himachal Pradesh and these adrenaline-inducing activities.
Also read:
The Ultimate Guide Of The Churdhar Trek | Trekking In Himachal Pradesh
Best Places To Visit In Himachal Pradesh (Updated 2021)
The Ultimate Guide To Hiking/ Trekking In Himachal Pradesh 2021