There's nothing like getting an authentic best Italian desserts on a holiday in Italy, but what are the top options that you should try first?
From delicious pastries to gelato, the choices when it comes to best Italian desserts are seemingly endless. With so many options, it can be difficult to figure out which are the best ones to try, and which you can live without.
Italy is known for its decadent desserts and delightful sweet treats, so whatever you end up choosing, you can't go that wrong.
But if you want a real slice of the dolce vita, here are the best Italian desserts that you have to try on your next visit to the sunny Mediterranean country.
Italian sweet side
Italy is known for having a serious sweet tooth. Whether that's having a sweet treat in between meals, or having a grand dessert after your dinner, Italians can't go a day without something that satisfies their sugar cravings – and neither can we.
You may be able to get Italian desserts in your own city – Tiramisu and gelato are always on every local Italian restaurant's menu – but nothing can compare to the experience of eating traditional Italian dessert in an authentic Italian location.
We think that it's well worth the trip to Italy for your chance to taste some of the best italian desserts that the region has to offer. Italian cuisine comes from years of tradition, with many recipes being handed down through generations in order to end up on your plate.
So book your flight and get on the next plane to Italy, it doesn't matter what city you travel to, they will all have their own traditional recipes and dessert options for you to enjoy.
Whether you enjoy it with a glass of a fine Italian red wine, or to get you through a long day of exploring a new city, get ready to tuck into 5 of the best Italian desserts.
5 Best Italian desserts to taste in Italy
No matter how long or short your trip to Italy is, you have to make sure you try all of these desserts while you're there.
Here are the 5 best desserts to taste in Italy: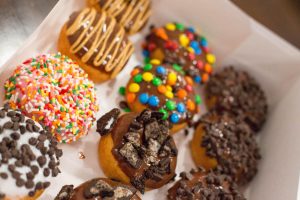 Tiramisu
Starting with the most popular, Tiramisu. This is probably the most well-known of all Italian puddings, and for good reason.
The delightful mixture of coffee, cocoa and sweet mascarpone makes for a truly irresistible dessert that also gives you a pick-me-up thanks to the added caffeine.
The first origins of the recipe started in the Veneto region in the 1960s, although some people think that the recipe can be traced back as early as the 17th century. No matter when it was created, it's now become a staple dish at any restaurant or café.
It's most commonly prepared in a large tray, where people can dish out multiple servings, but it's also common to find this pudding served in individual dishes.
There's also room to be creative with this dessert, although traditional recipes use the three basic ingredients: coffee, cocoa and mascarpone, you can also find dishes that incorporate fresh fruit or nutella.
Panna Cotta
Panna Cotta means 'cooked cream' in Italian, and the pudding has made a name for itself as one of the most popular and well-known best Italian desserts in Italy, alongside Tiramisu.
The luxurious pudding is made by heating up thick cream with sugar and gelatin – this is what gives it the gelatinous and wobbly effect when served on a dish. The mixture will be put into moulds, then into the fridge to set.
Panna Cotta isn't usually served by itself, as the traditional recipe can be slightly bland. To elevate the flavour experience, chefs will get creative by infusing the mixture with spices, vanilla or coffee, and then top with fruit coulis, chocolate or caramel.
Despite being rich and thick, a Panna Cotta goes down remarkably easily, providing a 'melt in the mouth' sensation that you can only really find when you order it from a traditional Italian restaurant.
Gelato
If you think you like normal ice cream, just wait until you try proper Italian gelato. The quintessential Italian dessert is the perfect way to cool off on a hot sum mer day, or just as a midday pick-me-up while you're running around the city.
The tastier alternative to ice cream is made using milk rather than cream so it has a lower fat content, and it's not frozen solid.
Gelato comes in many different flavors, and is normally made in small batches to ensure the best taste and quality possible.
Cannoli
Cannoli is the name for the fried shells filled with sweetened ricotta cheese and dipped in chocolate that originated in the Italian island of Sicily.
The dessert is now a national staple, with many best italian desserts shops battling it out to produce the very best cannolis; experimenting with different toppings such as candied fruit or pistachios to create their own signature recipe.
Top tip, if you are getting these in Italy, go for places that fill the fried shell when you order it. If you're picking up ready-made ones, they might already have gone soggy!
Tartufo
The final dessert that we think everyone should try on their next visit to Italy is a Tartufo. This is a frozen dessert that mixes chocolate, ice cream and fruit syrup – all of the good stuff!
This famous dessert originated in the Southern region of Italy in the 19th century as an innovative solution to serving gelato to guests at a celebratory dinner. Instead of serving ice cream in bowls, it was served on a plate, and to prevent it from melting the ice cream would be covered in chocolate and frozen before serving.
The recipe has come a long way since it was first introduced, now Tartufo is made using two different flavours of ice cream, housing a fruit syrup centre and coated with ingredients like nuts.
Buon Appetito!
Now we've taken you on a taste journey across Italy to discover some of the best puddings the country has to offer, we're sure you're itching to try the real things for yourself.
So book your flights and start researching the best locations to get these mouthwatering desserts in the city you're planning to visit!
Also Read: