While you should definitely visit the most renowned destinations like Venice, Rome, Florence and the Amalfi Coast once Covid restrictions are lifted, it would be an absolute crime to limit yourself to them. There is so much more to Italy than the big hits.
All the way down off the tip of Italy's boot is the island of Sicily, a great holiday destination bursting with culture, history, art, incomparable cuisine, amazing wines and a warm, generous approach to hospitality.
One of the Italian regions least affected by the coronavirus, Sicily is a land of rich viticultural and culinary traditions, exquisite landscapes, unspoilt beaches and historical sites that span millennia.
An absolute must-see on Sicily's north-western coast is the picture-perfect fishing village of Scopello, one of the island's most photographed beauty spots. You can see the photos from our picture book.
A 45 minutes drive west of Palermo's Sicilian capital, this tiny coastal hamlet in the province of Trapani is a candidate for sun-kissed Sicily's most beautiful village.
The scenery around Scopello is almost as vertical as the Amalfi coast. Its steep, rugged cliffs, picturesque fishermen's houses, and huge Faraglioni sculpted over millennia by the wind and the sea make Scopello one of the most beautiful and iconic beach resorts in the whole of the Mediterranean.
The old atmospheric Tonnara, a former tuna fishery active from the 13th century to the 1980s, adds character. It should hardly come as a surprise, then, that this picturesque seaside hamlet has long been popular with magazine photographers, film directors and trend-setters.
A rare gem in the northwest corner of Sicily, Scopello is really worth visiting before it might become a victim of its own success.




Top attractions in Scopello
Perched on a ridge about 300 feet above the coastline, Scopello lies between the quaint seaside town of Castellammare del Golfo – not to be confused with Castellammare di Stabia, near Naples – and the neighbouring Lo Zingaro Coastal Reserve, a spectacular strip of Caribbean-like-powdery white sand flanked by sea-worn limestone cliffs, where sparkling coves wait around every corner.
Although it would be considered a tiny village, Scopello offers a lot to see and do.
The Tonnara di Scopello
Just below the fascinating waterfront hamlet of Scopello is the scenic tonnara, one of the most evocative, suggestive and photogenic locations in Sicily, if not Italy. Once home to an ancient tuna factory, it is a relaxing holiday spot today. The Scottish writer Gavin Maxwell lived and worked here for a while in the 1950s.
Dating back to the 13th century, the tuna processing plant ceased operations in 1984. Although privately owned, it is open to the public, with visitors free to enter and have a look around as long as they respect the site's tranquillity.
With old warehouses, smooth-stone streets and original fishermen's cottages around a little cove hugged by steep-sided cliffs and rock formations topped with a medieval tower, the historic, creamy-coloured tuna plant crowning the shoreline is a popular film location.
Did you recognize it? Yes, this is the exquisite setting where several acclaimed films, TV series and commercials were filmed, including scenes from the famous Hollywood blockbuster Ocean's Twelve with Brad Pitt, George Clooney and Catherine Zeta-Jones, the Dolce & Gabbana Light Blue ad with British model David Gandy, and an episode of the detective series Inspector Montalbano, based on the best-selling novels by crime writer Andrea Camilleri. The location is just as awe-inspiring as it is on the screen.
Here you can swim in some of the bluest water you'll find in Sicily, sunbathe on the tremendously picturesque beach next to the old tuna factory, dine on fresh-caught seafood and linger over a glass of delicious Sicilian wine while enjoying soul-stirring views of the huge sea stacks rising out of the glistening blue water. For such a small place, Scopello has a profusion of excellent restaurants serving the freshest of fish.
You can also visit the seafront museum in the old tuna plant and learn more about Sicily's fascinating tuna-fishing heritage. There is also a diving centre offering equipment hire, snorkelling expeditions and guided dives around underwater caves and shipwrecks in the neighbouring Zingaro nature reserve.
Baglio Isonzo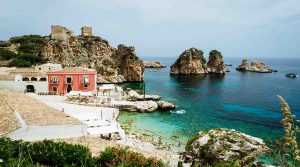 On one side of Piazza Fontana, the village's main square, sits the gateway and large, paved courtyard of Scopello's 17th-century Baglio, now the focus of local life.
What is a Baglio, you ask? Like a hacienda in Spain, a Baglio is a fortified farmstead built in limestone, originally used to store food and possessions. Architecturally, Baglio Isonzo is an amazingly exotic place where Spanish and African Arabic influences bear witness to this area's eclectic past. The name comes from the Arabic mahal, meaning inner courtyard.
In this little corner where the charm of old Sicily seems to remain intact, you can find a ceramicist's workshop, an artist's studio, a restaurant, craft shops and a couple of cafés with men playing cards at the tables. Baglio Isonzo is a truly magical place at night.
Lo Zingaro Nature Reserve
Immediately to the north of the welcoming little village of Scopello, the Riserva Naturale Dello Zingaro is hands-down the most beautiful coastal nature reserve in Sicily.
This is a walker's paradise, with a network of spectacular walks and some secluded pebbly, sandy and rocky coves for those prepared to do the trek. Scopello is a perfect base for exciting hikes and excursions through this expansive nature park that runs for five miles to San Vito Lo Capo, a perfect golden arc of sand on Sicily's northwest tip.
A series of coastal walking paths rise through pristine hills carpeted in wildflowers before dipping to crystal clear bays and secluded inlets, otherwise only reachable by boat.
Cala Bianca
Two miles south of Scopello is the gorgeous bay of Cala Bianca (literally, White Cove), perfect for swimming and snorkelling. This little corner of paradise takes its name from the colour of its pretty white-pebble beach, contrasting so charmingly with the golden-hued limestone cliffs on the one hand and the transparent deep-blue and turquoise waters of the Mediterranean on the other.
Guidaloca Beach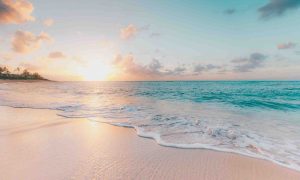 Just a few minutes south of Scopello, a winding road leads down to the pretty pebble beach of Guidaloca, with crystalline waters and a couple of fully equipped lidos with sunbeds and umbrellas. Simply unforgettable.
To learn more about Sicily and Scopello, visit selectsicilyvillas.com. Travelling may be on pause right now, but that doesn't mean your planning has to be.
Best Accessories for Travelling
Read Also:
Top 5 Mediterranean Regions For A Small Group Adventure Trip
The Top 16 Honeymoon Destinations for 2022