Marketing to promote hotel can be tricky. You're not targeting people in your area. They already have houses there; they don't need your hotel. Instead, you need to target folks far away that might want to come to the area and need a place to stay.
Because of the distance you have to cover, online marketing is the best way to promote hotel. It's the best way to reach people all over the world!
However, it's not as easy as scheduling a few social media posts now and then. It's more in-depth than that. If you really want to bring in the visitors, try these four tips to promote hotel online. 
Create a working hotel website
The key to any online marketing strategy is to have a killer website. For hotels, your website is extra important. While other companies can get away with a few pictures and information, you need a website that actually works. 
Being able to take reservations through your website is a must in today's society. People want things to be easy. They don't want to call in. They want to be able to look for available rooms, select the one they want, and pay for it with a few clicks of a button. 
Not only does your website actually have to work, but you also need it to be mobile-friendly. Smartphones have taken over the world. Today, 56.89% of all internet traffic comes from mobile devices. That's more than half! You want to make sure your website looks and functions as perfectly on mobile devices as it does on the desktop.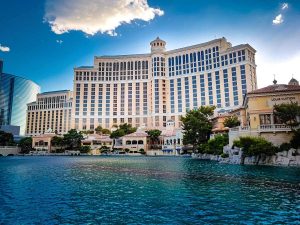 Build a solid SEO strategy
Now that you have a good looking, working hotel website, it's time to get people to visit it. A solid search engine optimization (SEO) strategy will help you show up at the top of the search engine results, which is a must for online hotel marketing! 
There are over 5.6 billion Google searches every day (yes, that's with a "B")! These searches are coming from all over the world, and some of them could be looking for a nice hotel to stay in when they go on vacation. 
The best way to build your website SEO is to create content on your website. Use keywords on your web pages that relate to the searches you want to show up in. Think about terms like "vacation destinations in [your area]," "places to stay," and "hotel in [your city]." 
It's also a good idea to start a blog. Blogs are great ways to continuously add content (and keywords) to your website to tell search engines what you're all about. Just like the keywords, write blogs about ideas your visitors might be searching for. 
For example, writing a blog about all the interesting things to do in the area is a great way to attract out-of-town visitors to your website. Not only will you give them inspiration to visit your exciting city, but they'll also be on your website.
It'd be quite convenient for them to simply press that "book now" button on the side of the blog page… Talk about easy conversions!
Like search engines, social media platforms attract a lot of users. Specifically, around 4.62 billion! That means it's another great way to promote hotel online. 
The key to a successful social media marketing campaign is high-quality content. It's not enough to just snap a picture of your hotel lobby. You need eye-catching images and videos with clever captions to really draw in the followers. 
Since hotels are a part of the travel industry—which is a hot topic on social media—post plenty of content about things to do in the area and show off how luxurious and Instagram-worthy your hotel is. Show your followers why they would want to make your hotel a destination. 
If you're having trouble coming up with content, a nicely designed travel poster is a great way to showcase deals, promotions, or events. Not sure how to design a poster? That's okay! There are plenty of travel poster templates available online. All you have to do is fill in your information, and you're ready to post.
Use online travel websites
When someone wants to book a trip, they don't always go straight to search engines to search for destinations and hotels. Sometimes, they use travel websites.
Travel websites are full of hotel listings and descriptions seen and used by tons of people online. Since people are already looking at these sites, why not use them to promote hotel?
Setting up a business profile on these travel sites is a great way to get your business in front of millions of travel-ready viewers. Here are some of the most popular travel websites on the internet:
TripAdvisor

Trivago

Hotels.com

Booking.com

Expedia

Travelocity

Kayak
The more travel websites you use to promote hotel, the more traction you'll get online!
Get your hotel in front of the right people online
Want to draw more visitors to your hotel? Well, the internet is a great way to do it! Promoting your hotel online can get your business in front of millions of eyes all over the world.
All you need to do is build a website, optimize your content for search engines, harness the power of social media, and use online travel websites, then sit back and watch your business explode!
Also Read:
Top 4 reasons why short-term rental houses are better than hotels
5 most important points to be considered by the travelers at the time of booking the perfect hotel in Lucknow
How To Choose The Best Hotel: 10 Things To Consider When Choosing Hotel For Your Trip