In this post, we would like to share about the Unexplored Places in Meghalaya. The Meghalaya is a beautiful state in the northeastern part of India. It is full of green hills, impressive waterfalls, and unique bridges. People from different tribes live here, and they have unique cultures. If you love nature and want to learn about other cultures, Meghalaya is a great place to visit.
Meghalaya offers many hidden places away from the usual tourist places. These hidden places are beautiful and provide excellent natural beauty. If you want to see the real Meghalaya, explore these unexplored places.
Top Unexplored Places in Meghalaya include: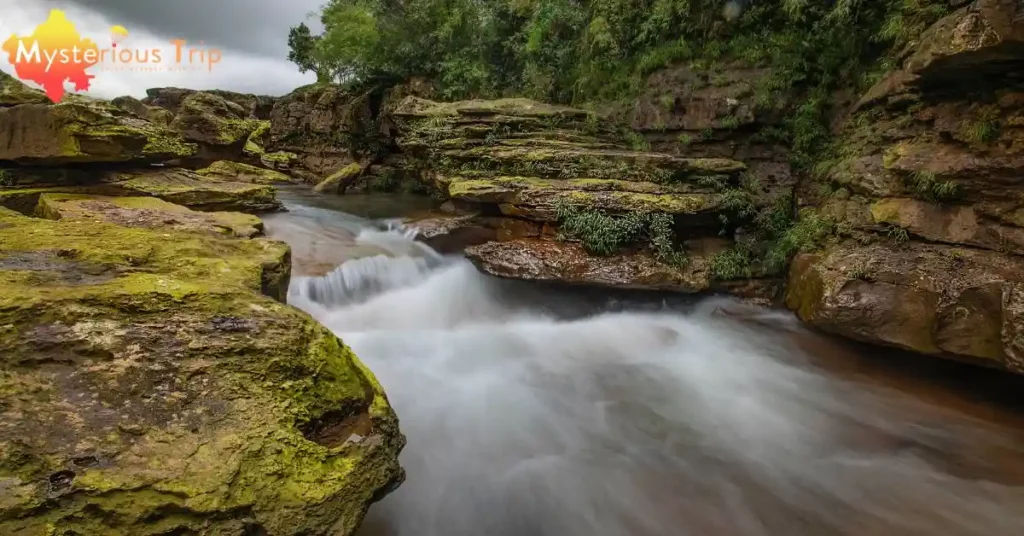 Below, we mention some of the best unexplored places that offer great natural beauty, adventure, and excitement. These places are lesser-known and peaceful, perfect for couples and nature lovers. Here are these:
Jowai
Tyrshi Falls
Nongkhnum River Island
Mawsynram
Ialong Park
Kongthong
Mawyngkhang Trek
Wari Chora
Krem Chympe
Pynter
Pynursla
Jowai
Jowai is a quiet and pretty town in Meghalaya. Green hills and lovely natural scenery surround it. It offers a variety of unique places. If you want to relax and enjoy nature, Jowai is a great place to visit.
Tyrshi Falls
Tyrshi Falls is like a secret waterfall near Jowai in Meghalaya. It is in the middle of dense forests and many trees and plants. The waterfall is beautiful, and it is a calm and peaceful place. If you love nature, you'll like visiting Tyrshi Falls to relax and enjoy the natural beauty.
Location: F5CR+FR3, Jowai, Meghalaya 793 151
Timings: 9:00 A.M to 5:00 P.M (Sunday to Saturday)
Nongkhnum River Island
Mawsynram is a small village in Meghalaya, famous for its heavy rainfall. It is a green and beautiful area, with hills and valleys. Visiting Mawsynram is worth enjoying nature.
Ialong Park
Ialong Park is in Meghalaya's Jaintia Hills, a calm and pretty place. There are beautiful gardens with colorful flowers and peaceful lakes. It is perfect for taking short walks, enjoying nature, and relaxing.
Location: F724+M34, Ialong, Meghalaya 793 150
Timings: 9:00 A.M to 5:00 P.M (Sunday to Saturday)
Kongthong
Kongthong is a particular village in Meghalaya. So, visiting Kongthong is like discovering a place where music and nature come together especially. This place is one of the best-unexplored places in Meghalaya.
Mawyngkhang Trek
The Mawyngkhang Trek in Meghalaya is for people who love adventure. It is a journey through beautiful places with forests, waterfalls, and small villages. You get to see the natural beauty of Meghalaya's nature and learn about the tribal culture.
Wari Chora
Wari Chora is a lovely village in Meghalaya with beautiful scenery. When you visit, you can feel the local way of life, enjoy the fantastic views of the hills, and experience the kind and friendly nature of the Khasi people. It is a peaceful and wondrous place.
Krem Chympe
Krem Chympe is like a hidden cave in Meghalaya that is perfect for people who love exploring caves. When you go inside, it is dark and mysterious, but you'll see fantastic rock formations made of limestone. There are also particular ecosystems with unique plants and animals. If you like adventure, this cave will be an exciting and thrilling experience for you.
Location: 8H4R+QWF, Donshiling, Meghalaya 793 113
Timings: 12:00 A.M to 12:00 P.M (Sunday to Saturday)
Pynter
Pynter is a calm and quiet village in Meghalaya. It is famous for its beautiful green nature and natural life. When you visit, you can take leisurely walks around the town, meet local people, and see how they live a simple but fulfilling life in this peaceful part of Meghalaya.
Pynursla
Pynursla is a beautiful town in Meghalaya. It is a hidden gem surrounded by untouched forests and hills. People who love nature and hiking will like it here. You can walk through thick forests, see unique animals, and enjoy amazing views of the Eastern Himalayas. Pynursla is like a secret paradise for outdoor adventurers.
FAQ's:
What is the contact number of Tyrshi Falls?
The contact number of Tyrshi Falls is 03642582508.
What are the famous hotels in Pynursla?
The famous hotels in Pynursla are Ka Bri War Resort, Saimika Resort, and Polo Orchid Resort.
What is the best time to visit Pynter?
The best time to visit Pynter is Summer.