One of the most significant advances in watchmaking, the Royal Oak, was widely regarded as the first luxury watch to be fashioned of stainless steel.
Timepieces like the Royal Oak made by the brand Audemars Piguet showed elegance and sophistication. Like the rest of the Swiss watch industry, Geneva serves as the home base for Audemars Piguet.
Sales of Audemars Piguet's high-end mechanical watches suffered greatly in the 1970s as cheap quartz timepieces flooded the market and effectively supplanted them. But the company did not give up and turned their weaknesses into strengths that got them the household name they are today.
With its rich history, the Royal Oak watch has a unique place among Swiss watchmakers. So if you are planning to own one, continue reading this article for more motivation.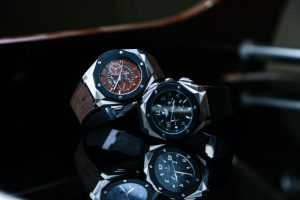 1. The Royal Oak Exudes Grace and Delicacy
Intricate and minutely detailed, the Royal Oak has a substantial presence because of its overall design. The original tapered steel bracelet is indeed durable while remaining flexible.
While the dial may have the appearance of woven silver and silk as long as it has "petite tapisserie," this is not the case. They have always had the grace of something created by a Renaissance artist in his sketchbook making this timepiece a work of art.
2. Royal Oak's First Customer was Royalty
The Shah of Iran, Mohammad Reza Pahlavi was some of the royalties who owned a Royal Oak watch. Supposedly, the Shah requested that Audemars Piguet make the first Royal Oak entirely out of white gold, and they did so.
At the time, the monarch was enamored with the Royal Oak's luxurious amenities and was probably well-known for his taste in palaces, vehicles, and women.
3. The World's First Thinnest Automatic Movements
From the moment it was introduced in 1967, the thinnest and smallest automatic movement ever made was developed in partnership by Jaeger-LeCoultre, Audemars-Piguet, Patek Philippe, and Vacheron Constantin.
When Audemars Piguet first released the Royal Oak in 1993, it was the first timepiece to use a chronograph movement, and it has since become one of the company's most popular models.
Having an anti-shock mechanism, Royal Oaks were ideal hosts for this extremely thin movement. Even if today's watch movements are thinner, Audemars Piguet's contribution to this highly significant breakthrough is worth noting.
Because of Audemars Piguet's lengthy tradition of producing high-quality timepieces, the Royal Oak collection has become famous.
4. Invented the Luxury Sports Watch
The watch industry introduced a new class of clocks in the 1970s rather than the high-end luxury watches of the time. Vintage Royal Oaks is a hot commodity at any auction since they have been a collectors' choice for more than four decades.
To frighten wealthy travelers and adventurers, Royal Oak released its first true watch, offering a magnificent sports watch that was also water-resistant.
5. Royal Oak Design in a Day
In 1971, Audemars Piguet sought to take advantage of the Italian market's need for a sporty yet refined steel watch design, even though they were tight on cash at the time.
One day was all it took to design and construct the watch, despite its reputation as a world-renowned timepiece.
For Patek Philippe's "Nautilus" model, Gérald Gente came up with the octagonal case and mounting screws that became the signature design of the Royal Oak. Genta was able to produce the now-iconic Royal Oak design in less than a day after Golay's phone call.
6. The First Royal Oak was White Gold
The first Royal Oak watch prototypes were entirely white gold, despite the watch's original steel-made design. Because gold is more malleable than steel, working with it to create this huge watch was a lot simpler.
When the Royal Oak received a positive response from the public, the company increased production and invested in the machinery needed to manufacture Genta's specifications in steel.
7. Royal Oak Designed in a Day and Nearly Called "Safari"
Frequently known as the "Safari watch, the Royal Oak was a prototype watch. When they asked Gerald Genta, a well-known Swiss jewelry designer, to design the Audemars Piguet Royal Oak watch, he accepted quickly.
A desert expedition-inspired moniker was born from the animal's active demeanor. For this reason, Audemars Piguet decided not to go with the name because it didn't fit their brand image.
When he pitched the idea to Audemars Piguet back in 1970, he said that he had come up with it in a single sitting. A diver's helmet with eight screws was the inspiration for this jewelry designer.
As a result, Audemars Piguet opted out of this because it was incongruous with the company's reputation. The Battle of Worcester, in which King Charles II of England hid behind a tree, is widely believed to have been the inspiration for the name.
Conclusion
If you are determined enough to own a luxury watch like the Royal Oak, it can be a bit challenging given its expensive price.
So if you are deciding, the things mentioned above can enlighten you about this Audemars Piguet and its watches. You may visit this brand's outlet stores, official website, and WatchShopping.com to be up to date with their latest timepieces.