Dubai, the city that never sleeps, beckons nocturnal adventurers from every corner of the globe. With its extravagant skyline and lavish lifestyle, this oasis in the desert takes on a new persona as the sun sets, transforming into a mesmerizing playground for those seeking unforgettable nightlife in Dubai.
Brace yourself for an exhilarating journey as we uncover the five absolute must-visit destinations that define the pulse of Dubai after dark.
Whether you're in pursuit of the best nightlife in Dubai or craving a taste of the city's legendary party scene, this guide will serve as your compass, leading you to the hottest spots where dreams come alive under the starry Arabian sky.
Let's delve into the heart of Dubai's electrifying nightlife and create memories that will leave you with a wish to explore more.
Skyview Lounge – Where the Sky Meets the Sea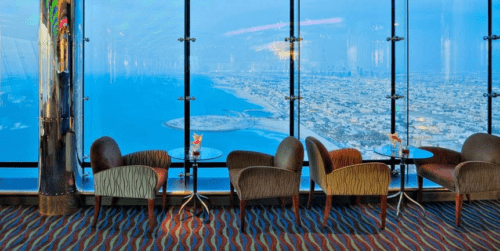 Perched high above the city on the 27th floor of the Burj Al Arab Jumeirah, Skyview Lounge is one of the best nightlife clubs in Dubai, a heavenly sanctuary that offers a breathtaking vista of Dubai's skyline kissing the Arabian Gulf.
As the sun dips below the horizon, the lounge transforms into an ethereal realm, adorned with shimmering lights and a palpable sense of sophistication.
Sip on exquisite cocktails crafted by master mixologists, savoring every sip as you immerse yourself in the pulsating beats of the resident DJ. Indulge in an array of delectable small bites that tantalize your taste buds, ranging from delicate seafood delicacies to succulent Wagyu beef sliders.
Address: 27th floor, Burj Al Arab – Jumeirah Beach Road – Dubai – United Arab Emirates
Contact: +971800323232
Zero Gravity – Where Beach Vibes and Nightlife Collide
Nestled on the pristine shores of Dubai Marina, Zero Gravity effortlessly combines the laid-back ambiance of a beach club with the vibrant energy of a nightclub. It is one of the best nightlife bars in Dubai.
Picture yourself basking in the glow of the moon, sand between your toes, as the DJ sets the stage for an unforgettable night. Dance beneath the stars to a mix of international hits fueled by refreshing cocktails that quench your thirst for adventure.
With its unrivaled beachfront location and pulsating atmosphere, Zero Gravity is an absolute must-visit for those seeking the perfect blend of relaxation and revelry.
Address: Dubai Marina, Skydive Dubai Drop Zone – King Salman Bin Abdulaziz Al Saud St – Dubai – United Arab Emirates
Contact: +97143990009
Soho Garden DXB – Where Eclectic Vibes Meet Sophistication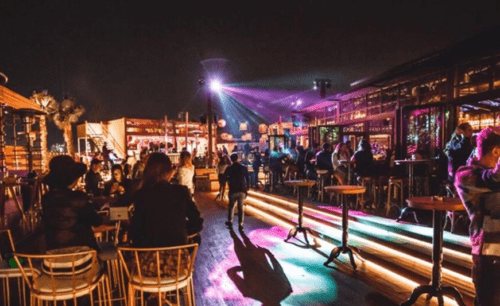 If you are looking for the best nightlife in Dubai, Soho Garden, nestled in the heart of Meydan, is a destination that seamlessly blends lush greenery with sleek urban design. This multi-concept venue offers diverse experiences, catering to every nightlife enthusiast.
Start your evening at the sophisticated Glasshouse, where you can savor handcrafted cocktails and gourmet bites amidst a contemporary setting.
As the night unfolds, make your way to the enchanting Soho Garden, a sprawling outdoor space adorned with twinkling lights and a lively atmosphere. Dance to the beats of renowned DJs and international artists, surrounded by a vibrant crowd that exudes an infectious energy.
Address: Racecourse, GrandStand – Al Meydan Rd – Nad Al Sheba 1 – Dubai – United Arab Emirates
Contact: +971523888849
Armani/Privé – Where Luxury and Intimacy Converge
Located in the iconic Burj Khalifa, Armani/Privé is a hidden gem that exudes sophistication and exclusivity. This intimate nightclub, designed by renowned fashion designer Giorgio Armani, offers a refined ambiance with a focus on luxury.
Dubai nightlife is incomplete without visiting Armani; step into a world of elegance as you are greeted by sleek interiors, plush seating, and a stylish clientele.
The music, curated by talented DJs, creates an enticing atmosphere that encourages dancing and mingling. Indulge in a range of premium beverages, from expertly crafted cocktails to rare and fine spirits.
Address: Burj Khalifa – Lobby Level, Armani Hotel – Dubai – United Arab Emirates
Contact: +97148883308
Industrial Avenue – Where Underground Vibes and Cutting-Edge Music Collide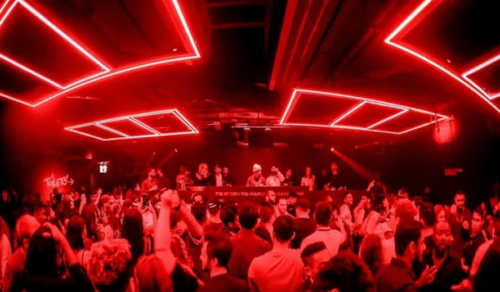 For those looking to experience good nightlife in Dubai, look no further than Industrial Avenue, located in The Westin Dubai Mina Seyahi Beach Resort & Marina. This hidden gem embraces the raw energy of an underground club, transporting you to a world where music reigns supreme.
As you step into Industrial Avenue, you'll be greeted by a dimly lit space adorned with graffiti-covered walls and industrial-inspired decor, setting the stage for an immersive experience.
The venue attracts a diverse crowd of music enthusiasts, drawn by its reputation for hosting local and international underground artists, DJs, and live performances.
Address: Beach Resort & Marina – The Westin – King Salman Bin Abdulaziz Al Saud St – Dubai Mina Seyahi – Dubai – United Arab Emirates
Contact: +97145117435
Dubai nightlife is a vibrant tapestry woven with neon lights, pulsating beats, and a myriad of experiences that cater to every taste.
Whether you find yourself sipping cocktails at skyscrapers, dancing beneath the stars, or immersing in cultural performances, Dubai's nightlife scene offers a kaleidoscope of unforgettable moments.
So, surrender to the rhythm, and let Dubai's nightlife create memories that will last a lifetime. Get ready to embark on a nocturnal adventure where the night comes alive, and dreams become reality in the glittering metropolis of Dubai.
Discover Dubai like a local with Dubai Local, your ultimate guide to unforgettable experiences! From the hottest nightlife destinations to hidden gems and must-visit attractions, Dubai Local is your go-to resource for unlocking the city's true essence.
Let Dubai Local be your trusted companion in navigating the vibrant tapestry of Dubai's dynamic culture and creating lifelong memories.