Travel marketing efficiency will play a significant role in the overall performance of organizations working in the travel industry, including hotels, airlines, and online travel agencies (OTA).
It is particularly important to ensure that businesses that fall into these categories are up to date with current trends and have the best, customer-friendly travel marketing techniques.
To improve your performance and results, you will find some essential tips in this article.
What is travel marketing?
Travel marketing is a common term used in the travel field for marketing campaigns. This covers techniques that hotels and resorts, transportation, restaurants, travel agencies, etc. use to attract customers.
This promotion is meant to encourage the travel sector to raise reservations, sales, or other traditional types.
A lot of these travel advertisement campaigns are also being applied online, through the company's website, social media, e-mails, and through third-party websites as well.
Remember those video ads about different destinations that you keep seeing on the internet? That's a travel marketing strategy.
Why is travel marketing important?
It is a highly competitive travel market itself, with several different firms vying for the same customer base.
This involves distinguishing yourself from competitors, drawing recognition, and promoting your distinctive attributes and characteristics.
There is a range of innovative travel marketing initiatives that can help corporations accomplish this goal.
Travel marketing tips to improve performance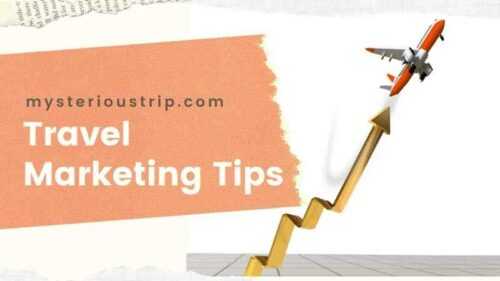 While travel marketing plays a crucial part in the growth of the contemporary industry, retaining the latest travel marketing tactics and developing a dynamic marketing mix is equally critical.
Below are nine travel marketing tips that can help you produce better results.
Customized marketing
One of the best tips for travel marketing is to concentrate on individualization, as travellers tend to be treated as individuals, and not as a group.
The aim is to have more customized marketing material so that you can connect more directly to consumers. The promotion of personalisation is highly based on data collection.
Customized marketing e-mail, personalized reviews, individual SMS messages, and different forms of social media marketing are typical examples.
Virtual reality marketing
Simply put, virtual reality marketing is any material provided using virtual reality technology.
The material in virtual reality is composed of a 3D world that can be accessed using a special headset. The VR content will consist of a 360 picture, a video in virtual reality, or an immersive VR game, all of which can be done using Promo Video Maker.
This is a common method of travel marketing, which is used in different industries. Hotels, for example, use VR tours to view hotel rooms, while travel agencies sell VR videos from tourist destinations. Click here to know more about this.
Voice search
Voice making is another new technology that is being used by advertisers to make a significant contribution to the success of smart home platforms such as Google and Amazon and mobile applications.
There are increasing numbers of consumers who use online travel agents to reserve accommodation, flight, and transportation facilities.
In addition to this program, online content can be designed to exploit voice searches by advertisers.
Besides, the use of voice-activated smart hubs is growing in hotels and is said to enhance consumer service.
Marketing and user experience
One of the best tips for travel marketing is to remember that most people don't pay for goods or services; they pay for experiences.
This theory drives the philosophy of marketing customer service, which increases customer experience and exceeds consumer expectations.
This was adopted by several hotel chains, with smart room controls for air conditioning and ventilation, and smart hubs for room service. A
Airlines also compete often on this basis, for example, in-flight entertainment.
Influencer marketing
Marketing also tends to have a stronger impact on consumers when it is done by public figures who already use social media platforms such as Instagram, Twitter, and YouTube.
This is primarily because the public values these influential figures, and are therefore more likely to believe something they share through their social media accounts.
Pictures and edited videos online are suitable to let the public see their impressions of travel. Businesses should target influencers who have an impact on the audience that they cater to.
Marketing of content
Digital marketing means the production of web material to promote your brand, including blog posts, video ads, infographics, podcasts, and e-books.
It usually entails information on services, locations, tourist places, and travel experiences in the travel industry.
The value of money in content marketing is one of the key advantages over other travel marketing tactics. In reality, supported content can be entirely free, but in return for improved exposure, it costs money.
The credibility of reviews
Customers use websites such as TripAdvisor and Google to make travel choices.
Therefore, what your customer says about you holds some weightage. 
The key tips for travel marketing here are to allow consumers to post e-mail feedback and to update details and photographs, and review sites.
Instead of relying on a company's marketing strategy, one traveller is more likely to be inclined to visit a destination if he/she hears about it from another traveller.
Communicate with clients
Keep communication lines open with old and new clients. It's crucial to have your customers feel like they are being taken care of. However, there's a fine line between staying in touch and spamming them, so don't go overboard.
Perhaps start with some weekly newsletters, company updates, and social media posts.
Once you evaluate the type of response you get on these, move on to more personalized forms of communication.
Be your own teacher
Learn from successes and failures in marketing. Make sure you chart your brand retreat or tour plan to see what succeeded and what could improve later.
Don't be afraid of feedback or to be innovative with your strategies. Listen to what your customers are saying in order to offer them better experiences in the future.
It's time to start creating, right now. You can now start selling destinations in a whole new way, so don't hesitate to get creative. If you are going for simpler visuals, you don't even need any fancy equipment or software.
Just edit videos online. Marketing's worst form is one that never exists, so prioritise yours and start today. Click here for the best editor in the market.