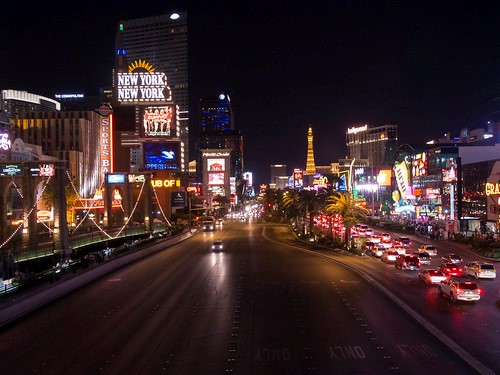 In the digital age, it's never been easier to play online games. The casino industry is big business with billions of dollars in revenue generated each year and new operators joining the sector every month.
Convenience is one of the key aspects driving online play but, for many, there's nothing that can match the experience of the slots, the card tables, and the roulette wheels in the physical world.
On or Off?
Fortunately, online and offline casinos can happily co-exist in the present climate. Finding a digital provider can be tricky, simply because there is so much choice but there is help available, review sites are easy to find, as you'll see here with these online casinos rated by OLBG.com. For bricks and mortar operators, there are many destinations all over the world but, for most players, it's all about Las Vegas.
The Vegas strip is home to many notable casinos and the choice here can almost be as baffling as that found online. With that in mind, here is a list of some of the best all-around casinos in this infamous Nevada location along with some details of what to look for.
The Complete Entertainment Package
The casinos are the big draw in Las Vegas, but the majority of those establishments have more to offer. Many have accommodation on-site while most will also have at least one top-class restaurant on hand.
Musicians, magicians, and comedians also mingle with the crowd to provide a great all-around package. If you're traveling, it makes sense to seek out the full tourism experience by enjoying great entertainment on top of a world-renowned casino venue.
Something Completely Different
One casino providing something of a unique experience is the Venetian. As the name suggests, it has gone to great lengths to replicate some of the amazing architecture found in one of Italy's most famous destinations, while adding its own modern twist.
As a result, visitors can travel on a gondola and take in representations of locations such as St Mark's Square and the Bridge of Sighs. On the way back to your room, why not visit a branch of Madame Tussauds and say hello to a waxwork of Miley Cyrus.
The opening of the Venetian back in 1999 was marked by a visit from the great actress Sophia Loren who dedicated the first Gondola, since then, it's been a popular attraction for subsequent Hollywood A-listers.
As for the casino floor, there are many thousands of slots along with roulette, poker, craps, baccarat, and blackjack set against the most ornate and ostentatious surroundings. In keeping with the relaxation of US rules in 2018, the Venetian also has a sports betting area.
Hail Caesars
On the west side of the strip, you can't miss Caesar's Palace as it's one of the tallest buildings in the State of Nevada. It's been providing casino play, a luxury hotel experience, and world-class entertainment since it was opened back in 1966.
Using the more decadent side of the Roman Empire as its theme, Caesars is another location that combines top casino play as part of an impressive all-around entertainment package.
The venue is known for its sumptuous accommodation with around 4,000 rooms including six luxury suites. The entertainment here comes at premium prices thanks to a long list of world-class stars who have performed here.
Elton John, Mariah Carey, Frank Sinatra, Sammy Davis Jr, Diana Ross, and Judy Garland are among the many to take center stage.
Those who travel to Caesars Palace purely for the casino experience won't be disappointed. The focal point is a vast, 4,500 square foot poker room that is open 24 hours while there is wide coverage of slots, roulette, and other card games.
Sit Back and Relax
Bellagio is a casino that can sometimes be omitted from Las Vegas lists, but we think it deserves to be lauded. It may not be the biggest location here but that can make it the perfect destination for serious players.
There's some levity here too with at least one entertainment company taking advantage of the spectacular lake which separates the building from the main strip. The Cirque Du Soleil delivers its aquatic production which is a big hit for visitors.
On the gaming floor, there are slots plus roulette and card games, but poker is the main focus. One other benefit is the delivery of food and drinks to the tables plus the option of the neck and head massages for those who need some extra comfort after a long stint in the chair.
The Best of the Rest
There are many more casinos across the Las Vegas strip including Aria, Red Rock, Golden Nugget, and the MGM Grand.
As with all names on this list, all of those locations are perfect for combining the best in casino play with some top-class entertainment.